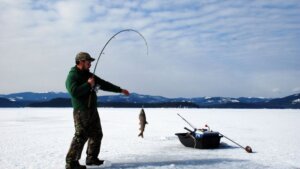 When all other fishing adventures come to a halt because of winter and ice, this cold-water fish is just warming up (pun intended!).
Trout fishes swim deep underwater to escape the summertime sadness (read: temperature), but they come above when the weather gets cold.
This means that winter is the best time for you to go on your ice fishing adventure.
In the United States, particularly, the winter season brings the chance to have many ice fishing adventures.
This is mainly due to the quality of fish available in the winter season, especially when it comes to bass and trout.
Many trout species are available in the United States; out of these, the most widely-fished and kept species is the rainbow trout.
Other types that anglers and ice fishing enthusiasts love to lure include brown trout, brook trout, and tiger trout.
A bonus tip for all ice fishing fanatics: go to the lake early morning or late evening to lure trout as they are most accessible and easy to catch in "low light".
This article will detail some of the best rigs for ice fishing trout & equipment that you definitely need for ice fishing.
Not to mention, we will tell you about some tricks and tips for ice fishing. This knowledge can be helpful regardless of whether you are an avid angler or an interested novice.
Best Rig for Ice Fishing Trout
Now, you need to pair the best lure with the best rig to make it more effective and efficient. While much importance is given to the lures and other ice fishing aspects, rigs mostly get overlooked. However, rigs are just as important as any other thing.
Rigs are an arrangement of fishing items. These may include one or a few of the following: hooks, lures, swivels, lines, etc.
You may hold it in your hand or attach it to your rod. Some people also use their boats or piers to attach the rig.
Here is one of the best rigs available that you can use for ice-fishing trout (and bass):
This rig is extremely efficient and durable. You will be able to catch several fishes in one go without pressurizing the rig to break or bend. Undoubtedly, this rig will be your ice-fishing companion for many years to come.
The Alabama Umbrella Rig is made up of high-quality swivels that are sturdy. It is excellent to catch trout and bass fish through ice fishing.
This rig can carry up to a seven-pound bass fish without any backlash or any other technical error.
This Umbrella Rig is known to have a sleek design that anglers like. It has blade and snaps connections for the convenience of the users.
It is most recommended for use where baits are already present. Finally, it can be run parallel to the dock and is very useful for ice fishing trout.
That being said, this rig is more expensive as compared to other rigs.
In any case, the high price proves to be a worthy investment because of its longevity, ease of use, and superb functionality.
It also comes with a five-year warranty, which tells how much the producers trust the rig to function brilliantly.
This company is the best in the business. Therefore, if you can afford to, buy the best rig that you can to make your ice fishing sessions even more fruitful (read: fish-full!).
Lures for Ice Fishing Trout
Firstly, one thing that turns a good ice-fishing adventure into the best one is the lure. The better lure you have, the more game you will catch.
These lures are excellent if they appeal to the trout's sight and hearing or if the lures replicate the minnows or other small fishes that the trout are attracted towards.
To help you pick the right lure, we have put together a list of some of the best lures for ice-fishing trout that you can use this winter season. Here are the top five best lures for ice fishing trout:
Acme is a very trusted brand when it comes to casting products. The Kastmaster is a masterful product that can be used both in saltwater and freshwater.
The lures are made of brass which extremely reliable for ice fishing trout. They are durable and can repeatedly endure saltwater's harshness without getting corroded, broken, or bent.
The Acme Kastmaster has an aerodynamic design which makes it the best for casting long distances.
Its versatility makes it appealing for small-sized trout as well as much bigger stripers.
To lure trout when ice fishing, you may want to apply the vertical jigging technique to this Kastmater lure.
Furthermore, it can also be used for other purposes apart from ice fishing. This makes it much more appealing to anglers who are also versatile and like to fish all around the year.
While using Kastmater, most anglers like to fish just off-bottom or halfway when the trout are cruising shallow.
It is recommended that you let it free fall before jigging occasionally and stirring up commotion by engaging the sediments beneath the ice.
These ice-fishing spoons are most popular for catching freshwater trout. Users around the globe have attested to their sturdy and effective design and unbreakable hooks.
These spoons come in multiple colors to replicate a live fish which attracts the trout. The length of each spoon varies from 3cm to 4.3cm. Moreover, these spoons have been galvanized with iron to endure the harshness of water.
These lures are not good for saltwater but work exceptionally well in freshwater for a long time.
They have massive strength due to being produced from iron and zinc. These go through a robust production process which is why they do not bend.
Finally, these Thkfish Silver Ice-Fishing Spoons can also be used for large fishes besides the trout.
They can endure the weight of large freshwater fishes, and you can bring home so much more than a trout.
Freshwater anglers love this product because it comes in many vibrant colors that are resistant to dullness and corrosion, and its reflective design lures the trout further.
First things first: trout absolutely love white tubes.
Ask any ice fisher, and they will tell you that they have used white tubes to lure trout at least once (and it has proven to work!). These are the simplest of all lures and fairly effective.
As is evident, the PowerBait Power Tube is a jigging lure. You can let it roll down into the water and vertically create some commotion by yo-yoing it in the water. This will attract the trout towards yourself.
This tube is available in different colors that you can experiment with.
It is actually recommended that before deciding to change the lure altogether, try experimenting with different colors within the same lure first.
It so happens that your trout may not like red but will be attracted to green.
This Power Tube does not need much working and understanding. It is quite simple and can be jigged under-ice water easily so that you can bring some trout home.
No products found.
This lure is from a 50-year old Swedish company that excels in making ice-fishing products. The name of this lure is funny, but it is quite serious at what it does.
Pimple excels at vertical jigging and gains most of its action from it. It is most effective for ice-fishing trout when you combine it with bait on one hook point.
No products found.
You can choose to put a wax worm or a nightcrawler as they are most popular with fishing trout.
You may want to remain subtle with this fishing lure and start with quick jigs and let it flutter down in a precise and controlled motion.
It comes in various sizes that you can choose from depending upon the fish you want to catch. The small 1/10 ounce proves to be most effective for luring trout through ice fishing.
The Pimple lure would be better off when ice fishing in freshwater or onshore.
A tip for all the anglers would be to take their fish-finder whenever setting out for ice fishing as those will tell you how the fishes are reacting to your lure.
That way, you will be most aware of which lure to use for a particular fish.
This Buckshot Rattle Spoon replicates the foraging minnows and is extremely useful for attracting trout.
Its usefulness is increased by the built-in brass rattle that creates a sharp tick that reaches very wide. These spoons have vibrant colors and a reflective design.
Like most of the other lures in the list, it is best for vertical jigging. You can start with sudden and aggressive jigging to catch the attention of the surrounding trout.
Once you have them indulged, you can tone down on the jigging to create the defense-like impression like that of a real minnow.
You will find this lure most effective when you actually replicate the living minnow fish in its movement.
One thing is for sure: whichever size you use, you will attract all kinds of trout and especially the rainbow trout.
By this point, you must have realized that lures play a great role in you having a productive & fun ice fishing session.
You want to get a lure that is attention-grabbing—both visually and audibly.
Now that you know about five of the best lures that you can use for ice fishing trout to ensure that you get a great catch, we will detail further tips & tricks for you to find your suitable match!
Tips and Techniques for Ice Fishing Trout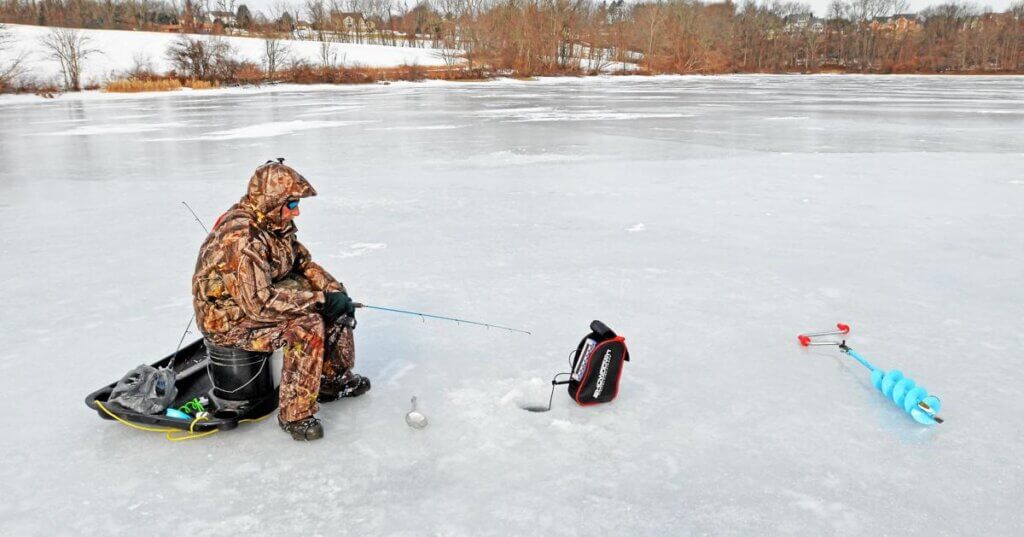 Now that you have enough information to select the best lure and best rig for ice fishing trout, it is time to learn how to use this equipment well.
Some tips and techniques may prove useful whenever you go ice fishing and make your adventures most productive and fulfilling.
You may wonder why ice fishing trout becomes popular whenever the New Year arrives.
That is because trout are cold-water fish that feed and travel actively during the winter months when temperatures drop.
That is what makes ice-fishing trout an excellent activity during the winter period.
Do you want to say "yes!" the next time someone asks you if you want to go ice fishing? Well, here is all the information you need to start!
Choose the Correct Equipment
There is nothing that agitates anglers and ice fishers more than departing for an ice-fishing session with barely adequate or mediocre equipment.
Good anglers need good equipment if they want to lure plenty of fish. Thus, if you are going ice fishing for trout, you need to have the best tackle and gear in your kit.
Please make a list of all the things you need: a baitcaster, rig, lure, line, etc., and check each item as you put it in your kit.
We personally recommend making lists ahead of the fishing day, so you do not forget anything or wind yourself up in a last-minute hassle.
Which Equipment Is Correct?
Fishing Rods and Reels
For rods and reels, you need to choose the most appropriate ones. The rods for ice fishing trout are generally shorter than those used for general freshwater fishes, usually between 24 to 36 inches.
Also, consider the trout species you want to lure, and choose the action range accordingly.
For example, a medium action rod is good for rainbow trout, whereas a medium-heavy action rod is most appropriate for lake trout.
Reel Line Capacity
Similarly, if you choose to fish for lake trout, you may want a reel with a high line-capacity as lake trout can travel a longer run. For rainbow or brown trout, the high line-capacity is not as important to consider.
Line and Leader
For ice-fishing lake trout, a braided line of 10 to 15 pounds is appropriate with a 6 to an 8-pound fluorocarbon leader.
Braided lines provide no stretch and are more favorable if you want to ice fish in deep water.
If you plan to go ice fishing for rainbow or brown trout, a 4 to 6-pound test monofilament line will do well with an 8 to 10-pound monofilament or fluorocarbon leader.
Bring a Fish Finder
If you are looking to make your ice-fishing journey even more exciting, bring a fish finder with you.
Fishfinders have amazing SONAR technology which can detect the fishes around you. When going ice fishing, this can be extremely helpful as well as fun.
You can also use this fish finder to experiment with different lures and baits and see the trout you are interacting with or interested in most.
This will help you cast better and in a more calculated manner. Fishfinders are also equipped with GPS technology that helps you map your favorite locations and revisit them later.
Furthermore, you can go ice fishing into deep water if you take your fish finder there.
Needless to say, this fish finder, along with the best rig and lure, will ensure you catch plenty of trout.
Make the Lure Visually and Audibly Appealing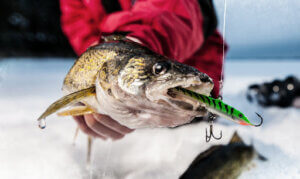 When going ice fishing for trout, remember that trout, like other fishes, react most to sight and sound. Use this information to cast your best lure.
Ensure that your lure is visually appealing – preferably replicating a live fish or a prey; the most popularly used are minnow lures.
Trout are as expected to react more if your bait is visually appealing and close to prey. Other visually appealing lures also include spinners.
Basically, choose anything shiny, colorful, and resemble a fish or some other appealing object.
Next, make some noise and commotion with your lure. Do not set your lure straight and motionless into the water—no matter shallow or deep.
A motionless lure is as good as no lure. For this reason, some lures (like the one listed also) use a rattle built-in inside them to make some noise to attract the trout.
When you jig the bait vertically into the water, the rattle inside makes noise to alert the surrounding fish.
In this way, they think that it is a live prey and are attracted towards them. Some flipping jigs are available with noise chambers that are very attractive for trout and work well in ice fishing water.
Jig like your life depends on it.
When ice fishing, the most important and necessary technique is knowing how to jig. As soon as you lower your lure into the water, jig as much as possible vertically.
The lure will function by itself, but the jigging will facilitate the rhythm and eventually help strike a trout.
You want to attract as many trout as possible, right? Of course, they notice the lure when it reaches the bottom, but the jigging is what sustains their interest.
When the lure reaches your desired position, start jigging to attract the surrounding trout in the water.
Types of Lures and Baits for Ice Fishing Trout

There are some different types of lures and baits that you can choose for ice fishing trout. Experiment with them, have fun and figure out what works best for you. Anglers generally like to go for something small and light.
Jigs
Tube jigs (especially white) attract lake trout the most. You can use jigs in 1/64 to 1/8 ounces size and tip them off with minnows or wax worms to attract rainbow trout.
Jigging Spoons
These jigging spoons are made from metal and can be used in freshwater. They are a bit heavier than regular jigs but are made to endure the harshness of the water.
When ice fishing trout, these provide a reflective and visually appealing surface to lure the trout. They are available in several different sizes that you can experiment with well.
Minnows
There are two types. You can use the plastic version shaped in the form of a minnow and coated with vibrant colors to replicate a real minnow.
However, there is also another somewhat complicated way that some anglers use, whereby they use live minnows to hook off the bait to lure the trout.
Even though this is an effective method, it may not be easy to achieve for a novice angler.
If you eventually want to use the live minnows as baits, you may start with an artificial one. Fake it till you make it.
Conclusion
The tips and techniques mentioned above should enable you to have a successful ice fishing adventure.
We hope that this article proved useful in acquainting you with some of the dos and don'ts of ice fishing for trout.
Not to mention, we hope it helped you find the best lure and the best rig for ice fishing trout. Using these tips and tools, we hope you have the best ice fishing experience this winter!
Last update on 2023-05-29 / Affiliate links / Images from Amazon Product Advertising API