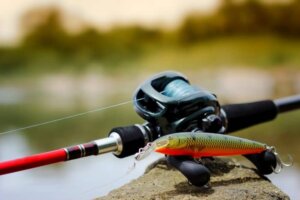 Are you a redfish fan? Do you love catching a redfish for dinner? Then it is time you upgraded.
Gone are the days where you used spinning reels to catch your favorite fish. It is time to move on to the baitcasting reel.
You may be wondering why I am suggesting changing your tool. There are various reasons, which I will share and explain when I talk about the best baitcasting reel for redfish.
The obvious reason is its performance. It will make an enormous impact on your efforts of catching a redfish.
People who have experienced catching fish with baitcasting reel usually end up saying that 'If you have a good baitcasting reel, fish will come to you, instead of you going to them.'
To make your life easier and help you decide which baitcasting reel to find, you have come to the right place.
I will help you in deciding which baitcasting reel to buy. It may seem not very clear at first because of the various options available in the market. But let us make it easy for you.
13 Fishing Concept A
Every company has a different product with different features. That is why multiple companies are competing to provide the best product.
After several trials and errors, they come up with the best product according to your liking. That is where the 13 Fishing Concept A comes in.
Lightweight
Most casting reels are quite heavy. That is why it is not so difficult to find one. However, looking for the best combination of lightweight and ergonomics will be quite difficult.
Companies are still developing strong and lightweight reels. However, the 13 Fishing Concept A is the greatest achievement so far.
It weighs only 6.7 ounces, with a variety of gear ratio options available. Not only does it move as fast as lightning, but it has great efficiency.
If you are into flipping and pitching, then customers have quite literally called it a monster.
Furthermore, the 13 Fishing Concept A has a Bulldog Drag System with a force of 22 pounds.
This powerful system will make sure that it will not let the line slip once clenched, however strong the pull.
Various customers have tried making the drag slip by wrapping the line around strong objects, yet they have not slipped, not even once.
Smoothness
Reviewers have been quite impressed with the amount of smoothness this reel provides. They have claimed that it might be smoother than reels, which are double in price.
They have a total number of 6 bearing balls with 3 made of stainless steel and 3 made of anti-corrosion material.
It also has a smooth roller that allows more casting and smooth retrieval even with more weight.
This reel has been mostly made with aluminum, which is a lightweight metal. It has proven to be quite durable even after tossing it around in the boat or the truck.
It further has a unique feature of the Arrowhead Line Guiding System. That system helps level the spool in every situation.
Handle and Paddles
When you go into the market, you will find several reels with small handles, which will make them difficult to control.
But when you look at the 13 Fishing Concept A, you will find it quite pleasing with a decent amount of grip.
This reel has been designed with a larger than usual handle to fight against powerful fish like the redfish. You will also easily be able to locate the handle when you grab the reel.
The paddles are also attached with cork, which is quite durable and comfortable at the same time.
Abu Garcia Revo Rocket
This has become famous for all the features available in one product with a very low-profile packaging. People have been quite impressed with the performance, which they did not accept.
Speed and Efficiency
When you name a product Rocket, that means it has quite a lot of power and juice. It pulls up 41 inches of the line in one turn, which is never heard of before.
That would especially help people who need to hit the bottom of the lake. You will certainly feel the difference immediately.
When you have a faster reel, that will make you a lot more patient and tolerable with difficult situations, such as dragging or pitching in the summer.
People often want to catch a fish fast, which would also be facilitated by this reel.
Another important point to note is that when the reel lets you cast faster, it helps you target your area and move on faster once you are done with that specific area.
Drag
The Abu Garcia Revo Rocket has a Power Stack Carbon Matrix Drag System. Does that sound like a high-tech performance drag system? Yes, because it is. It has a lot of strength to hold the line where it should without slipping.
A customer shared their story of when they got caught in a deep brush pile. They pointed their tip towards the brush pile and trolled in the opposite direction. They saw the reel pulling the brush pile.
Looks
Abu Garcia did a great job with the grippy design and the stunning matte red color. It should most probably resist hook and boat rash a lot better than the shiny red color.
Everyone has their own opinions and preferences, but this might be the most favorite color with great resale.
Handle Knobs
They have designed the knobs in such a way that you will easily locate and grip the handle knobs when you are short on time.
They also have a great texture and feel, which makes them quite comfortable. It will also prevent you from bruising your knuckles.
Factors to Consider When Buying the Best Baitcasting Reel for Redfish
Gear Ratio
As you probably already know, the gear ratio is stated in x:y format. X depicts the number of times the spool rotates, while Y depicts the number of times you turn the handle.
So, if a baitcasting reel has a ratio of 7.3:1, then the spool rotates 7.3 times per turn of the handle.
Now, why do you need to be aware of the gear ratio? The answer is simple. The higher the number of spool rotation, the faster the line comes back to the holder.
That is why it is necessary to know the gear ratio of the selected baitcasting reel.
However, there is a slight catch. If you prefer having more torque than the retrieval speed, you will have to choose one with less speed retrieval.
But if you want more speed retrieval, then you will have to go for less torque. Either way, you will have to compromise on one of the features.
We recommend that you select your baitcasting reel with a medium gear ratio and torque. That is the only way you will enjoy and use the benefits of both features in one baitcasting reel.
Reel Drag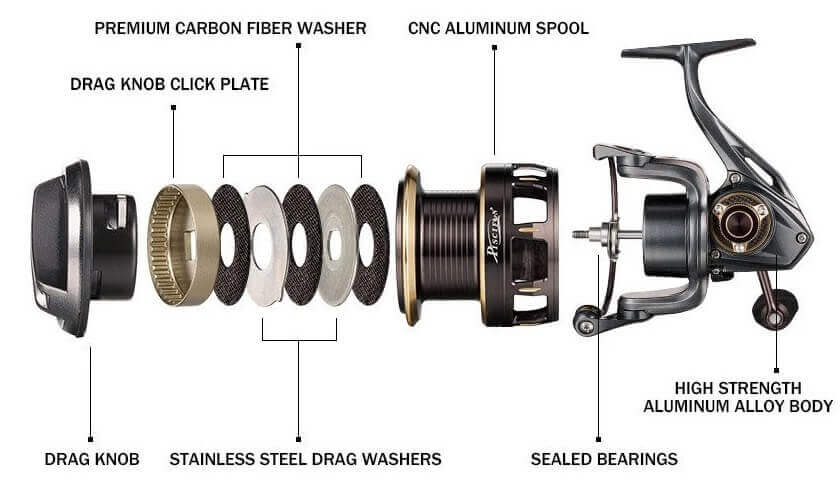 Usually, when you were using a spinning reel, you would use your thumb as the drag. The most common way to turn a fish's head while retrieving it would mean to put your thumb firmly on the spool and pull with all your effort.
And you would make sure not to let any line out.
As technology has advanced, so have the methods. When you buy a baitcasting reel, they come with the function for drag.
It is specifically designed to pay out the fishing line, depending on the fish's pulling strength.
You need to be aware of how hard you use the drag function. If you push too hard, then you might end up breaking your own line. But if you let it be too loose, then it will not be effective.
It would help if you focused on using a substantial drag for a redfish because of its strength. Nor can you let them peel off all of your line from the spool.
Line Capacity
The subheading speaks for itself. Without a doubt, the line capacity of the baitcasting reel is quite important.
You might want to go fishing for small fishes, and at times, it will be big fish. To catch big fishes, you require many lines because they tend to be a lot stronger.
It is now a standard rule that if you like fishing for bigger fish, you should have a long line. Therefore, the higher the line capacity, the more versatile it will be.
Reel Braking Systems
Please do not overlook this because it may seem unimportant. It is as valuable as the rest of the factors.
They are specifically designed to help anglers avoid dreaded backlash. That usually happens when the spool spins faster than the line can actually leave the spool.
These braking systems are designed to even out the speed at which the spool moves if it might be moving too fast.
There are mainly three kinds of braking systems: centrifugal, magnetic, and the combination of them both. It would be best if you opted for the one that works best for you.
Ball Bearings
Another important aspect that you need to cover is ball bearings for the best baitcasting reel for redfish.
The purpose of ball bearings is that they help to make a relaxed casting and retrieval. Usually, most people think that they should get the greatest number of ball bearings. That may not necessarily be true.
Specifically, for a redfish, you must consider having a low gear ratio. Mainly due to the strength and power a redfish shows when caught.
If you have a slow rotating spool, it will give you more edge over the redfish when retrieving.
Here are Some Other Factors that You Might Consider:
Size of the Pool
It makes common sense that you have more space for longer lines if you have a large spool. You may not be going to fish for yellowfin tuna, but in any case, you must be aware of the fact that it is possible to have more lines in a spool.
The material of the Gear
If you are a beginner, you must know that the reel's spool and handle must be made of metal. Everything else can be made of plastic.
The preferred type of metal would be brass. Yes, most of the reels have metal gears, but it is a point to be noted and understood.
Reel Cleaning
It is essential to keep your reel lubricated not to face any difficulty when reeling your line. You are probably wondering how does that matter when buying a baitcasting reel.
You might not be aware, but some reels come with lubrication ports, which makes the task comparatively easy. It will turn out to be an easy task with less time consumed.
However, if your reel does not have lubrication ports, you will have to disassemble the reel to lubricate it.
That may take some technical skill. If you can do this on your own, do not hesitate to take it to a professional technician.
Conclusion
It may seem a lot to take in a while reading this, but once you start going through them one by one, comparing your favorite reel, you will understand the difference.
Once you receive your desired reel, you will see the difference it would have made while catching a redfish.
Do not forget to check the updated price and availability of your product.
Even if it is unavailable, it might be worthwhile waiting for it to be back in stock because we all know that there is nothing like a great relaxing fishing trip with the boys.