When it comes to fishing, you have to be patient. But, you wouldn't want to wait for a whole day when you have reached the lake after passing through all the trouble. What solution do you have?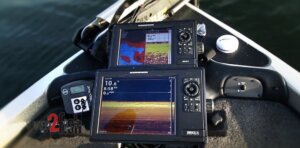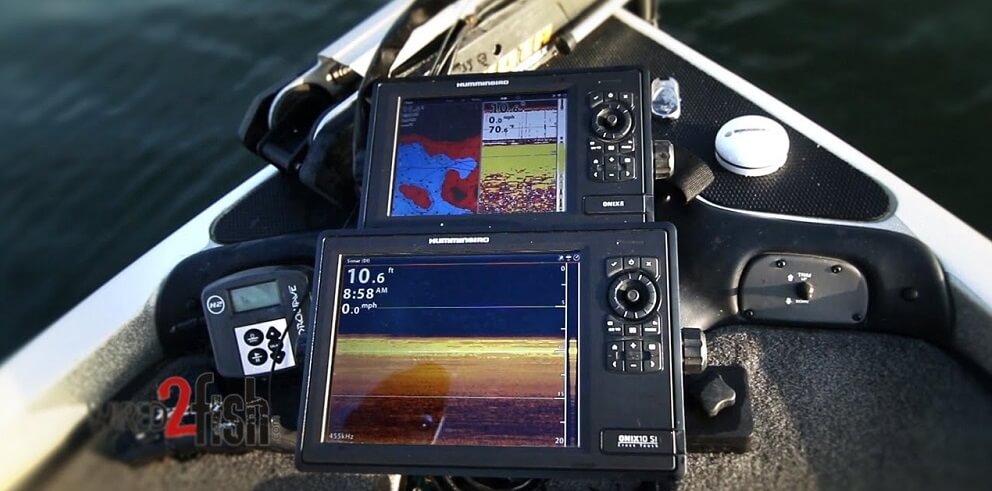 The popularity of fishing from a canoe is rising, so there is a need to power up your game if you want to be counted as a professional angler.
It would help if you had a perfect canoe fish finder. The technology has advanced, and now you have tools that can help you find the fish's hidden location.
Play smart and that you can only do with the best canoe fish finder. It might become difficult for you to find the canoe fish finder from numerous options.
To save your research time, we have reviewed the seven best canoe fish finders for you in this article. So, if you are ready, we shall proceed.
A Quick Overview of the Best Canoe Fish Finders
Garmin Striker 4 With Transducer – Highly specialized GPS enabled fish finder
Deeper PRO Smart Portable Sonar – Wireless Wi-Fi enabled, requiring no internet
HawkEye Fishtrax 1C Fish Finder – Most powerful fish finder

No products found.

 – All round fish finder
Humminbird PIRANHAMAX 4 Fish Finder – Dual Beam sonar Fish Finder
Raymarine Dragonfly 7 Pro – Ideal beginner's fish finder
Best Canoe Fish Finder Reviews in 2022
After combing through countless products and reviews, we've shortlisted the very best for you.
These are the best canoe fish finders available on the market, and they come with some glowing reviews.
Keep reading to understand which fishfinder would be right for you.
Since 1989, Garmin has been popularly known for delivering the best GPS technology. The Garmin Striker 4 with Transducer is ideally known for its high-tech GPS.
Moreover, its sturdy and rugged design keeps the gadget secure and safe in any fishing environment.
With this high-quality fish finder, you can choose icons for your selective locations and store about 5,000 waypoints.
Furthermore, you can view not only the location but also the speed of the boat.
Its dual-beam transducer employs the Garmin's Compressed High-Intensity Radiated Pulse (CHIRP).
If you are no tech expert, this feature will send you constant frequencies and offer you crystal-clear images to find fish easily and quickly.
Main Features
Comes with dual-beam transducer using Garmin CHIRP Traditional sonar
The screen has a 4.3-inch display.
Highly durable design
Equipped with the best quality inbuilt GPS technology
More Details about the product
Are you worried that the fish finder will get damaged by splashes of water? Then don't, as it is IPX7 waterproof and can handle splashes of water and rain.
Besides, the fish finder has an excellent battery life which can last for more than one fishing trip.
Lastly, it comes with excellent display modes. The various display modes include Section Number mode, Waypoint map, Split frequency, Flasher mode, and traditional mode.
It doesn't matter whether it is bright sunshine or dark outside; you will be able to read everything due to the HVGA color display and backlight.
Specifications
Weight: 8 ounces
Display Size: 3.5 inches
Dimensions: 3.6 X 1.6 x 5.9 inch
Water Rating: IPX7
Your fishing will become much easier and more fun with this technologically driven and user-friendly fish finder.
Moreover, it delivers high-quality target separation of the structures present underwater.
If you like to experiment with technology, Deeper PRO Smart Portable Sonar is the best choice.
The wireless, light, and super portable option is best to carry with you on canoe fishing.
The Deeper PRP smart sonar is compatible with both iPhone and Android smartphones.
The sonar works exceptionally well for different fishing types, whether fishing from the shore, motorboat, or canoe.
You can identify anybody of about three inches from 130 feet depth in clear surroundings with this fish finder.
Moreover, you will receive detailed information on fish tagging and bottom contour. It will include the water temperature and depth plus the present vegetation underwater.
Main Features
Maps out the depth of water for shore fishing
Employs Dual Beam sonar technology
Can connect easily with laptop or phone using Wi-Fi
It comes with an inbuilt GPS
More Details about the product
The best part of the fish finder lies in its fish marking ability. That means you can instantly mark the fish as soon as you spot them to make it easier for you to plan your next fishing trip.
The function is quite useful as it assists in knowing the exact casting direction. It will let you know the precise distance of fish from you.
Specifications
Weight: 3.5 ounce
Map Type: Topographical
Dimensions: 5.9 X 5.32 X 2.95 inch
Connectivity Type: Wi-Fi
The Deeper Pro Smart Portable Sonar Fishfinder is an excellent choice for buying modern technology-induced gadgets.
The high-tech technology used in this device makes your fishing experience smoother and entertaining as well.
The HawkEye Fishtrax 1C Fish Finder is arguably the most powerful device in this line of products.
It comes with a color screen that displays all the information you need for fishing. This screen can also double up as a flasher during winter fishing trips.
The fish finder comes with an excellent waterproof housing feature that protects the device from liquid damage.
The display comes with glare resistance such that it enables you to see the screen in full color. Also, it is easy to use and install with just one press of a button.
The strong battery life is its key feature. The fish finder can offer exceptional 30 hours of battery life while running on 4AA batteries.
The fish finder will never run out of battery in a middle of a day or on your weekend trip.
Main Features
Colored HD display
Multiple settings that can be configured
It comes with three modes enabled.
Strong battery life
More Details about the product
Equipped with FishTrax Intelligent Sonar, it allows the fishermen to twist the fish finder to adjust to all types of platforms and fishing techniques.
The device comes with auto-zoom ground tracking, multi-level depth ranges, and 100-level affectability modification to easily target the fish.
Specifications
Weight: 9.4 ounces
Display Size: 2 X 1.6
Dimensions: 6 X 3 X 2 inch
Depth Range: 1.5 ft. – 240 ft.
The fish finder is great in terms of its ability to use and mount on the boat. You would not need any additional tools or make any modifications to your boat.
Moreover, its battery life is worth considering if you wish to buy this device.
4.

No products found.

– Best Budget
ReelSonar is one of the affordable and lightweight castable options you will find on this list.
You can easily connect the device with any android device or iPhone, or even iPad. The best part of this device is that it can adjust and adapt to all fishing settings.
No products found.
Utilizing sonar technology, the device can detect fishes from an excellent casting range of 100 to 135 feet.
Additionally, the device will provide every detail of the water body, including fish lurking shelves and all types of structures.
Not just that, you can record wind speed, temperature, and rainfall with this device.
However, it displays all the information right on your mobile screen. That's why it is the most portable device which can easily fit in your hand.
Main Features
Integrated GPS for fish marking
Highly portable and compact
Equipped with alarms and LED beam light for night time and ice fishing
Shows the information and image directly on your mobile screen
More Details about the product
You can take advantage of the GPS technology of the unit. It will help you make the fishing sport, water depth, and dock while planning for the next trip.
Another thing worth noticing is its inbuilt LED beam, fish, and strike alarm. These options make this device a great tool for nigh time and ice fishing.
Specifications
Weight: 0.16 ounces
Dimensions: 2 x 2 X 1 inches
Connectivity: Bluetooth
The fish finder makes a great gift for your loved ones who enjoy fishing at such a reasonable price.
Also, its low price does not compromise with the features and fish-finding ability. It includes everything that an angler needs from a fish finder.
With an over 12 percent increase in display size from previous models, it becomes easier to read the screen.
Even after such an increase in screen size, the unit weighs only two pounds, making it suitable for kayaks or small boats.
The device comes with some handy features to change the reading quality of the display.
You can change the color contrast to differentiate between dark and light sonar parts. Further, you can use zoom into the sonar parts for precise readings.
One more display option is the Whiteline feature which lets you replace any one color with white color that offers a stark contrast.
For example, if you are looking for fishes sitting at the bottom, the white line can help you see the fish.
Main Features
Utilizes dual beam sonar
It comes with rechargeable batteries.
Excellent quality transducer
Completely waterproof device
More Details about the product
The device makes use of dual-beam sonar, where you get crystal clear bottom imaging.
Each specific color will indicate the sonar's strength and weakness, such as red indicating strong, yellow indicates medium, and blue indicate weakly.
The ground will always show as red, where you can use the white line function.
Specifications
Weight: 2 pounds
Screen Size: 4.3 inch
Dimension: 3.6 X 3.9 X 6.8 inch
Depth Range: 600 feet
At such a price, PiranhaMAX 4 offers exceptional features. It is easy to read, use, and highly portable.
Thus, it makes a great device for canoeing, kayaking and perfect for beginners and hobbyists.
The Raymarine Dragonfly 7 Pro has some of the best reviews of all the fish finders available. It's the ideal device for beginners, as it helps you take your fishing game to the next level. It even allows you to mark your favorite fishing spots, making it an effortless task for you.
With seven inch display, the device offers a pixel matrix of 800 X 480. The screen provides a clear visibility irrespective of sharp contrasts, bright colors, and viewing angle.
Moreover, the LCD technology comes with optical bonding to make it easier for a user to read the screen in bright sunlight.
The Dragonfly 7 Pro utilizes CHIRP sonars. Also, the device includes a power cable of 20 feet supporting both sonar channels, DownVision, and 2D CHIRP.
The device's maximum depth for DownVision is 600ft and 900ft for 2D.
Main Features
Excellent 7-inch display screen size for clear and compelling reading
Can store up to 3,000 waypoints
Exceptional networking with Wi-Fi connectivity
Equipped with a microSD card reader to store information
More Details about the product
Come with IPX7 and IPX6 waterproof rating; the best canoe fish finder can handle heavy rains, splashes of water, and even a complete 3.3ft immersion in water.
Specifications
Weight: 2 pounds
Screen Size: 7 inch
Dimensions: 13.78 X 13.78 X 13.78 inch
Water Ratings: IPX7 and IPX6
Although it may set you back a few dollars more than other fish finders, it's definitely worth it. The high-tech location and tracking system make your job very easy.
You can save all your favorite spots, while the Wi-Fi feature lets you store all the data on your phone for later use.
What should you keep in mind while buying a fish finder?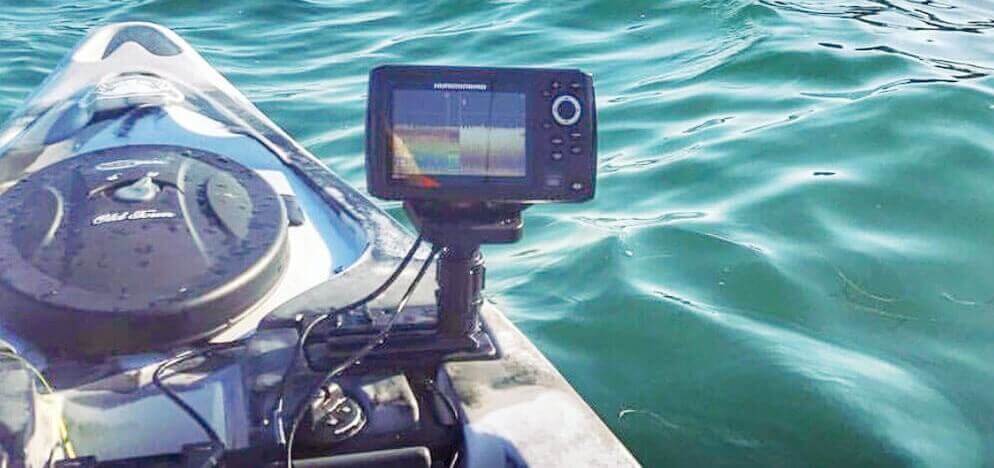 With the vast number of fish finders from so many different companies, it is easy to get confused while deciding which one to buy.
If you don't research the right kind of features and specifications, you could spend money on the wrong fish finder!
Fishfinders are supposed to help you by making it easy to locate and catch fish.
Therefore, to make sure you don't buy the wrong one, here is a small and quick guide for you. These are the crucial things to consider while looking to buy a fish finder.
1. Portable or Permanent
You will come across fish finders in the market that is both portable and permanent.
Permanent fish finders are a better option if you are looking to attach one permanently to a larger-sized boat. These will stay on the boat permanently.
For smaller boats and canoes, portable fish finders are better. These will surely help you in many different fishing environments.
If you don't own a boat and are renting one out for a fishing trip, this is the better option. Take it with you on the trip and remove it when you return the boat.
2. Size of the screen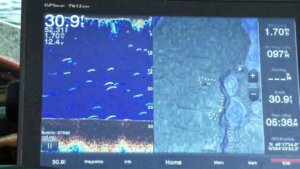 This is another important factor to consider while buying a new fish finder.
What kind of screen size are you looking for? You will find that there are so many options when it comes to screen sizes. Make a choice based on your comfort and what's suitable for you.
Just remember that you should always look for the biggest screen available within your budget.
A larger screen means more space for display, which means more information for you.
If you're looking for s fish finder for your kayak or canoe, go for a smaller size as you are closer to the water.
3. Colored or grayscale screen
Choosing between a colored screen or a grayscale screen is another important aspect to consider.
It will affect the budget you have decided on and how the information you want will be displayed to you.
In essence, colored displays only look better than grayscale ones. Very honestly, there isn't much more a colored screen can do than a grayscale one.
A colored display will have a better look but the same functionality as a grayscale display.
4. GPS system
When it comes to the features you are looking for in a fish finder; few are as important as the GPS.
A fish finder with a good GPS system will be an absolute blessing for you the next time you are out on a fishing trip.
The GPS will help you keep track of your location as you venture out to find newer, better fishing spots.
No more getting lost on the search for better fishing zoned. It also helps you track the fish while also letting you store all your favorite fishing spots on the device.
5. The glare of the sun
You have to remember one thing clearly. When you're out on a fishing trip, it's not an indoor activity.
You are going to be out in the open, and since most fishing trips are during the day, you are going to have to take the sun's glare into account while making a choice.
You have to have a screen or display clearly visible to you, even in harsh sunlight.
You could try out some types of LCD film that can help fight the glare of the sun. Alternatively, for better results, go for a good quality glare-resistant screen.
6. What it will cost
Many amateur fishers think that getting a fish finder for cheap is a big win. However, this couldn't be further from the truth!
A fish finder will make your job fishing very easy by guiding you to the best spots and locating fish for you.
If you are looking to cut corners when it comes to price, you can wave goodbye to convenience and ease.
The best thing you can do is invest a decent amount in a good quality fish finder that comes with good features. It will last you a while and make fishing a piece of cake.
Best Canoe Fish Finder (FAQs)
The best canoe fish finder is a great tool when it comes to fishing. If you still have some questions in mind regarding the fish finder, we will discuss them in this FAQ section.
✅ Who should purchase a canoe fish finder?
Anyone who loves fishing or wants to become a professional angler should get one of the above devices.
Fish Finders are best as they help you find all the hidden fishing sports. You can pick any area of your choice and let the fish finder do its work.
✅ Where to mount the fish finder on your boat?
The canoe fish finders are usually portable and lightweight that can be easily mounted on the boat. In the end, it depends on the size of the boat, whether you want to mount it in front of you or on the side of you.
✅ How does the canoe fish finder work?
A fish finder uses sonar technology to display the structure after detecting the location of the fish underwater.
It transmits sound waves into the water, and those waves detect the object, which is reflected back on the surface, and the fish finder detects it to display on the screen.
Final Thoughts
So there you have it. All the best canoe fish finders have great features and specifications and are designed to make your fishing trip a lot easier and more rewarding.
Out of all the products reviewed, even though the price may be a little higher, we would recommend the Raymarine Dragonfly 7 Pro.
It's got some of the best features we've seen in commercially available fish finders.
Alternatively, you can choose No products found. if you are on a tight budget.
The device is equipped with essential features that any beginner angler would need at an affordable price.
Last update on 2023-05-29 / Affiliate links / Images from Amazon Product Advertising API