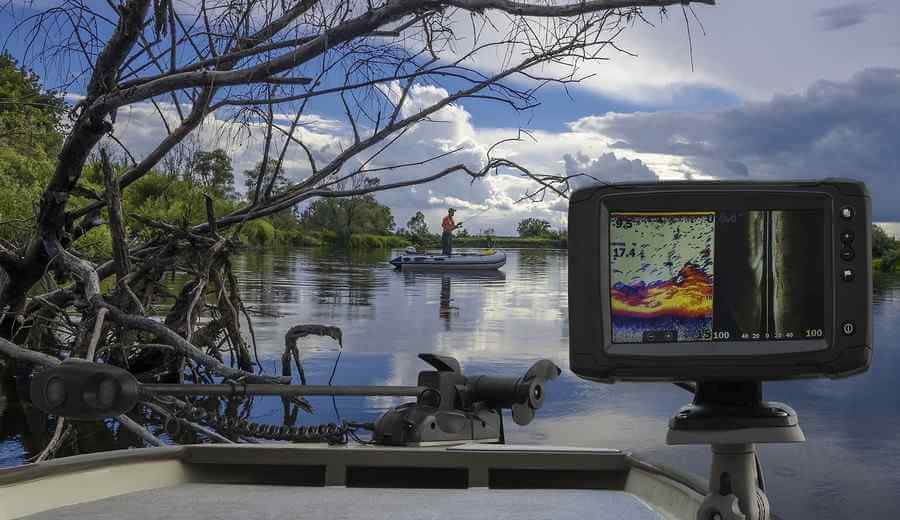 With advanced tools to make it easy to locate fish and catch them, everything is much effortless and easier.
The fish finder is one such tool to help you locate your best game and catch them efficiently. Fishers often feel perplexed when it comes to how to choose a fish finder.
There are so many features that go behind a perfect fishfinder. The SONAR technology in fish finders helps locate areas with a large density of fish but can also find corals, debris, or anything else for that matter.
If this is your first time buying a fish finder, you'll need help. This piece will help you understand how to choose and fish finder and use them. Without further delay, let's explore this robust tool!
A Little More about Fish Finders
They work using the detection of mirrored sound signals sent through the transducers of the fish finders.
You get your share of options, ranging from not only the quality of your tool but also the effectiveness. A good fish finder's capacity to locate the best area to cast your line depends on how the readings will show up on the screen.
There are ranges of frequency, power, wattages, resolutions, and add-ons to choose from that can sometimes make choosing a fish finder overwhelming.
Types of Fish Finders
There are various types of fish finders available because their need is also dependent on the user, the depth of the water, and your budget. You need to decide if you are choosing a fish finder for shallow waters or deeper ones.
Since fish finders use SONAR (Sound Navigation and Ranging) to displace the underwater strata using soundwaves, they're the perfect tools for anglers and amateurs alike.
Fishfinders are helpful when you are unaware of the fishing spot's depth or are not sure if your area is filled with fish or debris. Then you need to evaluate the more sophisticated features included in the fish finders and settle upon the one that suits your needs best.
Firstly, you need to understand the types of fish finders generally available in the market.
Standalone Fish Finders
Combination Fish Finders
Broadband Fish Finders
Networked Fish Finders
Portable Fish Finders
What to Look For In a Fish Finder?
New fish finders roll out with fancier specifications and advanced features. But ultimately, what you need to look for in a fish finder depends on your requirements.
If you're wondering how to choose a fish finder that comes with the exact features you will need, you need to understand what that includes.
As fish finders primarily work with transmitters and transducers that emit and receive mirrored sound signals and echoes, their quality and material become a necessity to consider.
Along with that, the quality, resolution, cone angle, and screen type of your display also play an essential role. That is where you will see the critical imaging. Here is a list of features to look for and things to consider when you choose a fish finder for yourself.
Our Buying Guides:
The Type of Frequencies
The fish finders come in single, dual, and multiple frequencies. The frequency plays a very crucial and indispensable role in defining a good fish finder. The higher the frequency, the more clarity you can achieve.
Like 192-200 kHz, the transducers with higher frequency work better in shallower waters, while the lower frequency ones of 50 kHz work well on deeper ones.
Since higher frequencies don't penetrate as deeply as the lower ones, they are more suited for lakes and shallow depths.
Power in the Fish Finder
The power used in the fish finders is measured in wattages. With higher wattages, you will get smart and quicker readings making it easier for you to set up a good location.
Higher wattages are better for deeper waters as the sonar waves received from the transducer may not appear as clearly or quickly needed for good reading.
At 50 kHz, your transducer can show readings up to 100 ft for 100 watts of power. Lower watts transducers can tobe used for lakes, etc., but overall, a high powered one will come in handy everywhere.
Types of Transducers
Since transducers play the most crucial role in a fish finder's function, you must carefully consider them. The transducers transmit and receive the snore waves that ultimately echo back to give you imaging and decisions of cone angles.
They come with different kinds of mounts, like the ransom mount for easy use and the thru-hull mount for more professional and heavy-duty use.
The cone angle determines how wide the beam will travel from your boat to the water. The broader the cone angle, the more area it will cover underwater.
The angle expands as the beam penetrates deeper into the water. For a beginner, a 20-degree cone angle should suffice.
If you are looking for advanced transducers, you can find ones that send more than one cone from a single pint. With more beams, you cover a more extensive and expanded area.
Screen Resolution
The number of the pixels and the color also determines your fishing and catching experiences. With high-resolution displays of cone angle and readings of the area, you will be able to fish efficiently.
The different colors also make it easy to distinguish between the wave readings, which gets a little tricky in black and white displays.
Colors screens are widely preferred by professionals, although the black and white screens are more affordable. The pixel number also determines the quality of your display.
With higher pixels, you will get sharper and clearer images and are worth the investment.
Pricing
While fish finders come with attractive and catchy features, they do so at a price. Your budget and affording also play a hand in what kind of fish finder you buy.
With expensive fish finders from popular brands, you will get better images, screens, power, advanced features, trackers, and quality.
Investing in a good brand of fish finders like Lowrance, Humminbird, Raymarine, and Garmin is a better choice.
Ending up with low-quality products that may not last long can be disappointing. So, invest in a good one so that you can have adventurous fishing experiences.
GPS Systems
It is necessary to remember when you choose a fish finder as the tracking and locations will be more comfortable with a good GPS. Some even have preloaded maps and have marked points for underwater topography.
The advanced ones come with customizable options and progressively personality navigation and cartography.
A good fish finder will also include Bluetooth and wireless features to make it better usability.
Knowing your locations and important waypoints also help you fish conveniently. The GPS can both be an add-on or a prefixed feature, depending on your choice.
How to Hook Up A Fish Finder?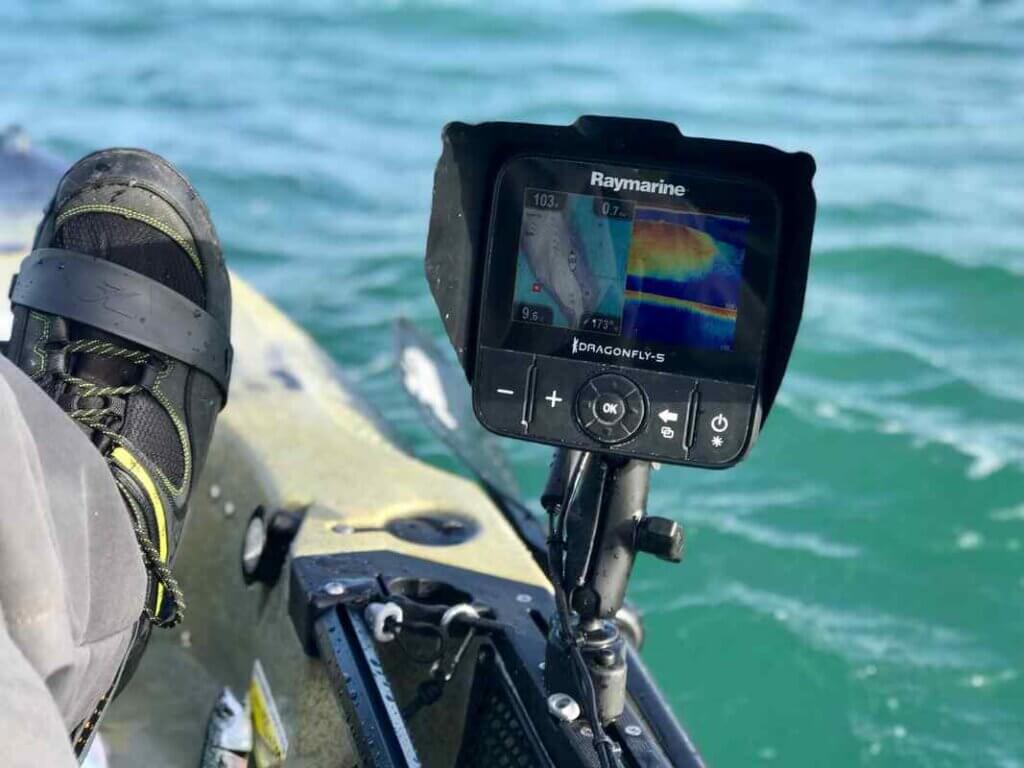 Hooking up a fish finder may sound daunting but can be made easy if you carefully follow the needed steps. You will also need some tools like wire fish, screwdrivers, fishing rods, adhesives, cable ties, sealant, etc.
The first thing required is the installation of the fish finder. To do that, you need to begin with registering your fishfinder. If you face issues in registration, contact your manufacturer.
The next step is to keep the fish finder software up to date for the best functionality. Then choose the right spot to mount your fish finder.
It preferably needs to be closer to the boat's helm and should be placed between your shoulder and waist height.
Next, make sure your fish finder's wires are within the area of the power source. You can also hook up your wires directly to the battery, and the location of the power source will make it easier to install the fish finder on the right spot.
After choosing the spot, you need to drill holes for the mount's placement and the wires with precise entry and exit points.
Add the silicone sealant around the holes and then the bolts of your fish finder before you begin mounting. This feature will help keep it in place.
Take power leads through the holes. At this point, you will know if you need to lengthen or shorten the length of the wires. You can use crimp barrel connectors if you're short on length.
Make sure that the cables run to the power source through your exit holes. The wires should be neatly wrapped with ties and should not have any slack.
Next, place the transducer in the deepest part of your boat. The transducer mount should be against the transom.
Mark the points where the mount should install the transducer wires, after which you should install your transducer. Add sealant if you want to keep it in place and make sure the water doesn't go through the holes.
Finally, hook up the system of your fishfinder. Keep the battery off when you hook up the wires and power it up.
If you need to seal off the wiring hole behind the binnacle mount, do so with the sealant. Make sure your fish finder is getting power once you have finished hooking up.
What Is Down Imaging On A Fish Finder?
Down Imaging sonar highlights the traditional down sonar and side sonar imaging. This imaging is to convey an image like the picture of submerged things under your boat.
A genuine illustration of a brand that fits in this capacity is called the Humminbird down imaging.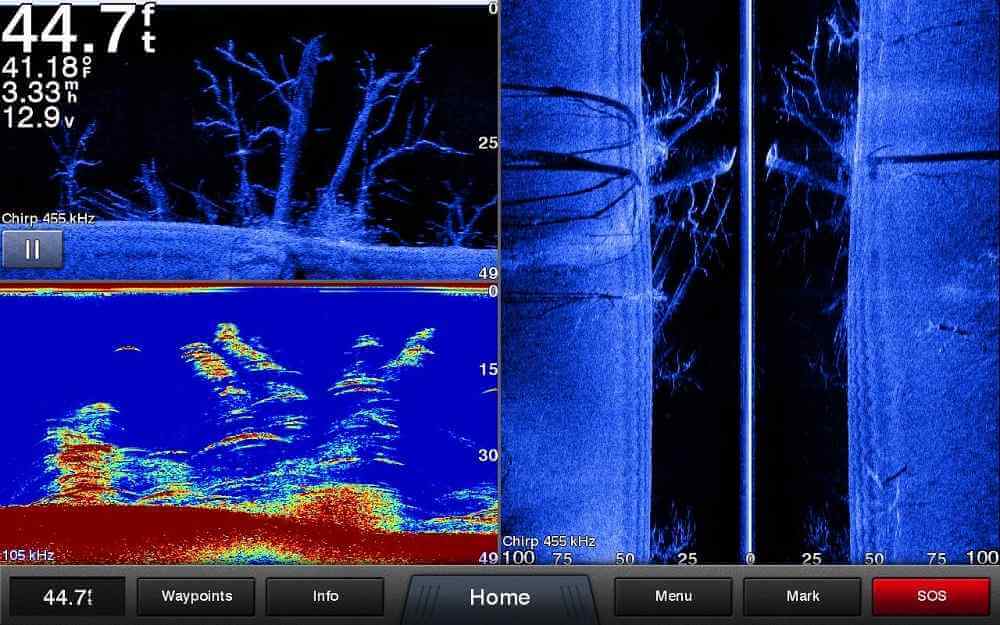 Down imaging is indistinguishable from your conventional sonar comebacks. It moves from the right option to the left, with current data showing up on the screen's side.
Down imaging sonar innovation assists with affirming and distinguishing things beneath the boat. You can likewise utilize it along with side imaging and switch fire. Making it an across-the-board instrument to help get more seafood.
While the waves get structures, which are not under the boat, but rather a little ahead or ahead off the side, the down imaging will show those designs that are straightforwardly underneath you.
With that data, you will be able to see the line of weed effectively. You would also know how further you need to have a more intensive look on the off chance.
In contrast to the 2-dimensional sonar, you may recognize designs and the fishes.
You can see from the image out. You may also be able to know whether it is a group of tree appendages or sea creatures.
Another decent thing about down imaging is that you can check the fish you catch and do without any problem.
Down Imaging sonar gets down to the most precise view and provides you a picture of everything beneath.
The down imaging also likewise gives certainty and the most unhampered look. That is to know if the things you see is a fish or something else.
How to Read Fish Finder Screen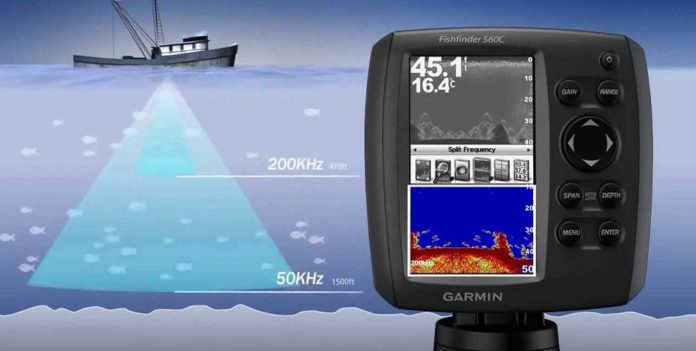 The vast majority run their fish locator screen. They expect the unit has a structure down scan.
Split-screen mode is preferred and recommended the most for this. This mode is so you can get both fish and applicable base highlights.
When in doubt, conventional sonar is preferred for getting fish curves and lure balls. While the single-color construction down scan, as per the name, is recommended for getting designs. For example, dropping off or indented trees.
With traditional sonar, fish commonly show up as curves. If you can see huge angles on the screen's base left, that is a bigger than usual fish.
The more modest the fish, the more difficult it is to figure it out. Especially when contrasted with traditional sonar.
Construction down scan is a configuration to get more point-by-point configured designs. Here the fish depicting pictures are more dabbed.
If the fish underneath is a big one, that equivalent enormous fish shows up as a mass. That is the way fish show up in design down scan instead of curves. However, the distinction here is Lowrance's Fish-Reveal innovation.
That has applied a feature to that "mass" to guarantee it so that it very well may be perceived as a fish picture.
FishReveal is intended to make the most out of the all universe picture in design down scan.
The construction down scan look on the fish locator screen additionally permits you to affirm that the fish is on or over a stone.
How do you know if it's a rock? The rock would be associated with the base, and it would be a similar tone as the base.
Regularly, the thicker the fish curve, the greater the fish. If your boat is still, and the fish is as well, the fish curve's length can provide a sign of size.
However, it would help if you made sure to adapt to water profundity—the more profound the water, the more modest the return. Hence, if you see a significant return in deep water, at that point, it is a substantial fish.
How to Tie a Fish Finder Rig
The Fish Finder Rig is a mainstream fishing rig utilized to get a wide assortment of seafood like stripers and redfish. It includes a sinker that slides.
That permits the snare to move openly even when the trap secures itself to the base. Following are the steps.
Start by cutting a piece of pioneer line, by and large, of around 18 inches would likely work.
Bind one finished point to your snare utilizing a Palomar Knot.
On the opposite finish of your top line, tie the swivel utilizing a Palomar Knot again.
With the help of your mainline, find the line through the pyramid sinker and your globule.
Bind your principal line to the opposite side of your turn utilizing a Palomar Knot. The knot makes it somewhat precarious. This knot is since the whole chief line needs to be pulled with the snare through. This feature is to complete the bunch; however, this can take as much time as necessary.
Loaded Weights
Regarding loads, most fishers select lead; however, there are different alternatives better for the climate.
Rather than purchasing store-bought loads, explore other avenues regarding utilizing steel. This material will erode the saltwater climate if you lose it.
Dabs
The plastic dab shields your line from your heaviness in the water. On the off chance that you decide not to utilize one, you're gambling a pointless break off from your line.
Pioneer
Contingent upon the fish you are focusing on will figure out which pioneer line you use.
On the off chance that you will fish around rocks, at that point, you should almost certainly decide on monofilament. That is the somewhat more scraped area safe than fluorocarbon.
Snares
Your snare size ought to be founded on your lure. In case you're following roost, for instance, and plan to utilize sand crabs, your snare will be around a number 6. In any case, if you're following more significant fish, you might need to use a piece of a cut snare.
At that point, you should consider going up to a number 2 or more. Utilizing circle snares since they are self-setting is also considered a good option.
Casting a Fish Finder Rig
Projecting a fish locator apparatus can be testing relying upon the weight utilized and the length of the pioneer.
On the off chance that you're using a twist and a load more than two ounces, at that point, we energetically suggest that you utilize a Breakaway Cannon. It is so you don't pierce off your finger in case you're using a turning reel.
A more drawn-out pioneer will likewise add more wind obstruction restricting your projecting distance. There are a few creative gear cuts you can utilize.
These keep everything smoothed out until they hit the water, making your cast more straightforward.
Why You Need a Fish Finder When Fishing
Helps You Look to the Bottom
From taking care of fish to construction to channels or openings, a fishfinder is critical on the off chance that you need to have the option to perceive what's on the base.
Understanding what lies underneath will assist you with having a superior comprehension of how profound your draws ought to be as well as how rapidly you ought to oar and figure out if it was even worth your opportunity to fish in a specific zone.
Lets You Find Bait
On the off chance that you are a talented fisherman, you don't merely pursue the fish – you follow what the fish are following.
When you understand what the fish is searching for, it will be simpler to discover your objective fish. Discover the trap, and you'll find the fish.
A fishfinder causes you to preclude fishing where there is no trap, permitting you to search elsewhere for dynamic fish.
On the off chance that you discover enormous schools of the snare with your fish finder, there's a decent possibility that fish are standing close by.
Allows You to Navigate and Mark Your Spot
Probably the most easy-to-handle component of present-day fishfinders is their capacity to stamp spots and mark a course.
You may want to return later, as the GPS will follow the marked trail and leave a path customized into the gadget.
Indeed, you can generally utilize your phone. However, it would be simpler to have a gadget that does this naturally for you.
Also, dissimilar to your PDA, a fishfinder is waterproof. Not any more stressing over dropping your phone to the most profound profundities of the lake!
Endnotes
The fishing business has not given up in the market and the industries. Such countless gadgets are by and large persistently developed to make fishing simpler and proficient.
A fish locator is an instrument for finding the fish submerged. It utilizes a reverberation area to detect and follow fish, track boats, and follow the waters.