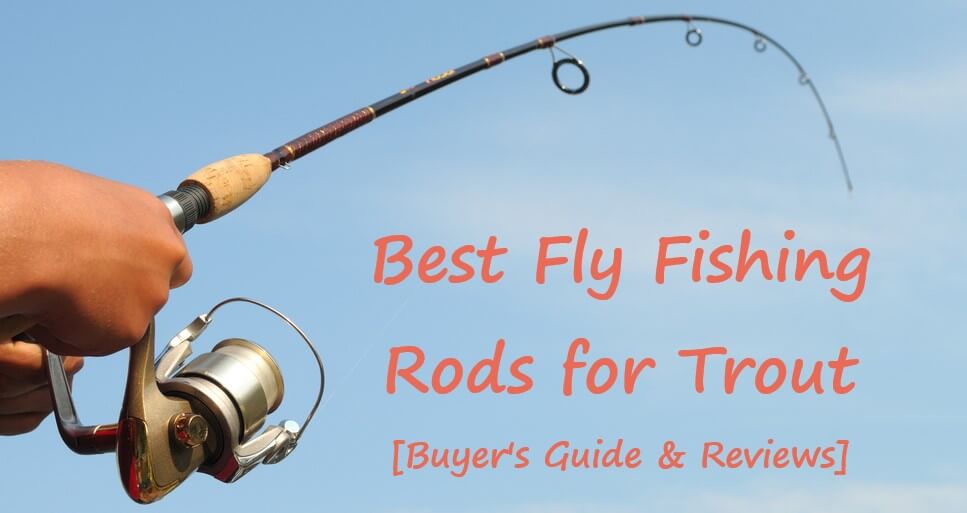 Nothing beats the adventure of trout fishing in cold water flows with majestic mountains in the backdrop. Trout are known to fight vigorously once you get them hooked.
It would be best if you had powerful rods to catch and control them simultaneously. A smart angler will always opt for a fly fishing rod that is incredibly responsive underwater.
Trout fishing requires you to go offbeat as no trout stream is easily accessible. The amount, length, and weight of your fishing gear are essential considerations for trout fishing.
A light-action fishing rod will provide more flexibility and control while dealing with Trout.
To help our viewers catch their favorite fish, we have reviewed some of the best fly fishing rods for Trout.
Our buying guide will also help you find the perfect pick from our top fly fishing rods' top choices.
Quick Overview – Best Fly Fishing Rods for Trout
Fly Fishing Rods for Trout Reviews in 2021
Landing your favorite trout fish is never easy! Whether you are an amateur trout angler or an experienced steamer, it's essential to find the best fly fishing rods for Trout.
The truth is most fly rods with a moderately fast action are suited to trout fishing.
But if you want to indulge only in trout fishing, the Redington Classic Trout fly fishing rod is your ideal product.
The progressive action and improved casting force will allow you to land the toughest of trouts.
Key Features
This fly fishing rod provides the ideal forgiving action and lightweight blank to reduce fatigue while trout fishing.
It offers the delicacy required for big river and technical spring creek fishing.
It emphasizes casting soft dry flies to trouts. The consistent talent allows you to bend the rod further down its entire length progressively.
You can put more casting force to land the Trout without much force seamlessly. It feels incredibly light on your hand and is the ideal casting partner on all-weather conditions.
More Details about the Product
The Redington Classic Trout fly fishing rod is available in different size and weight variations – 3WT 8'6", 4WT 8'0", 4WT 8'6", 4WT 9'0", 5WT 8'6", 5WT 9'0", and others.
We recommend opting for the 5WT 8'6″ or 5WT 9'0″ version. These sizes are more suited to trout fishing in cold water streams or small creeks.
The machine reel components are custom-made for trout fishing in cold water. The alignment points allow you to set up the fishing rod easily.
Specifications
Brown split ballistic nylon tubing
Moderate action fly fishing rod
Titanium Oxide Rod Stripping Guides
Various size options for trout fishing
The 5WT 8'6″ and 5WT 9'0″ size alternatives of the Redington Classic Trout are ideal for trout fishing. The product is incredibly affordable yet powerful.
Also Read: 🔥 Top 7 Best Salmon Steelhead Spinning Fishing Rods
The M MAXIMUMCATCH Maxcatch is our second contender on the best fly fishing rods for Trout. The rod comes with 24T+30T Carbon Max Linq blank technology to provide 20% more durability.
Key Features
The ceramic insert rod stripping guides and oversized tip band offer a greater value for your investment. The lightweight construction and pre-spooled fly reel are ideal for trout fishing.
The tapered leader and floating weight line will provide the ideal balance underwater. You can also quickly change the hand recovery from left to right within 30 seconds.
This combo set has everything you need to land your Trout without fail. You will bet one fast action fly rod, one fly reel with a weighted line, one neoprene spool bag, and 12 flies in a waterproof fly box.
More Details about the Product
Having multiple size variations and fly fishing components, the M MAXIMUMCATCH Maxcatch is a hit.
This fly fishing rod is diagonal distortion resistant with a reinforced muscle carbon strength.
With an affordable price range, this fly fishing combo kit is ideal for all trout streamers.
The stable center disc offers consistent and reliable control while fishing. The heavy-duty drag system will put strong pressure even on the biggest catch.
Specifications
Pure IM7 24T+30T carbon fiber rod with five different carbon layers
Preloaded ECO WF5F fly fishing line
20% more strength
Heavy-duty fly disc drag
Most fly fishing rods don't have a combo kit. This fly fishing rod comes with a knot tying tool to prevent air knots while casting.
The hard chrome carbon layer offers improved durability and corrosion-resistant features.
The PULSE is the latest fast action rod from the popular fly fishing rod brand – Sage.
The rods are specifically handcrafted in Washington state. The eye-catching design and custom fishing rod components will boost your trout fishing experience.
Key Features
The product is made of Graphite IIIe technology which ensures improved durability and power.
It will provide a continuous connection to your target and fast action fishing performance. The cosmetic details and tailor-made componentry are rare to find in other fly fishing rods.
It is available in multiple sizes. However, we recommend opting for the 5WT 8'6″ or 5WT 9'0″ variants.
If you want to indulge in long-range fishing, opt for the 7WT 10'0" – 8WT 13'6″ range. The PULSE fly fishing rod is ideal for fishing in all water conditions, including saltwater, freshwater, streams, or small creeks.
More Details about the Product
The PULSE fly fishing rod offers high performance and accuracy for both skilled anglers and beginners.
The rosewood insert comes with a glossy unlocking aluminum reel seat. The Fuji ceramic rod stripper guides and cork handle offer more durability and stability underwater.
It is available in various weight options ranging from 3 to 8. The 4-piece rod design makes it easy to carry while traveling.
Specifications
Graphite IIIe technology
Fast action fly fishing rod
Split lining nylon black tube
The aluminum anodized reel seat
Choose the 5WT 8'6″ or 5WT 9'0″ variant if you want to go out on a trout fishing adventure. The economical design and innovative graphite technology guarantee more strength and durability.
The iconic Orvis Clearwater fly fishing rods are considered the ideal trout fly rod by many anglers. The versatile length makes the rod ideal for all types of water be it small or large.
The line weight system allows you to handle both large and small Trout without any hassle. Come and see why most anglers love this rod.
Key Features
As a top pick for our best fly fishing rods for Trout, this rod is available in various sizes and weights.
The meet reel, graphite blank, weight-forward fly line, and trout backrest ensure that you never miss out on your biggest catch.
The state-of-the-art fly rod reign offers a crunchy and smooth casting performance. You can also use it for landing other types of fish due to its size and weight variations.
More Details about the Product
A commendable thing about the Orvis Clearwater fly fishing is its versatility. Some cheaply made products can handle only tiny-sized flies.
However, this product is an all-rounder when it comes to casting. We recommend using the 5-weight for catching mid-sized fishes like Trout.
If you want an all-around length choice, then opt for the 8.6″ one. This length will work seamlessly in both wide-open rivers and tighter streams.
Specifications
Weight-forward leader, backing, and floating line
Mid-flex action
Durable and Aluminum frame
Award-winning blank technology
The high-quality graphite construction of the Orvis Clearwater fly rod offers a responsive and fast action.
It also provides an incredible taper and performance owing to its ready-to-fish system. Moreover, the rod allows a bit of stiffness in its tip to haul in the trout fighters.
If you are a trout streamer, you must have heard the name of the Moonshine Rod Co.
This brand offers a classic, distinctive fly fishing rod for Trout with custom high-quality reel seats.
This fly fishing rod offers exquisite ergonomics, which are hard to find in other brands. The spalted hand-turned burl is dyed into the wood to reveal the intricate grain design.
Key Features
The brand offers improved rod aesthetics without compromising the performance and functionality.
The Moonshine Rod Co. provides the best sensitivity and action that you have never felt before.
The anodized copper hardware, luxurious Burlwood, and the vintage color pattern will boost your fishing experience.
The rod is available in various weights and sizes. For trout fishing, a 5WT 9″ or 5WT 10″ will be ideal. Whether you want soul-stirring movements or ultralight fishing actions, this rod is suited to all.
More Details about the Product
Most fly fishing rods have poor ergonomics and look. Often a luxurious design can improve your fishing experience.
This fly rod from Moonshine Rod Co. comes with a double locking mechanism for reel seats.
What's more? You will get a lifetime warranty on the product. The price point and easy rod loading features make this fly fishing rod a top pick for all anglers.
Specifications
Hard canvas tube with five compartments
Two tip segments
Anodized copper hardware
AAA cork handles with high-quality burnt ends
Everything an angler needs in a fly fishing rod is found in the Moonshine Rod Co. It works equally well in all types of water conditions.
The exquisite wood grain design and firm grip allow you to catch large Trout.
6.

No products found.
Whether you want a half-well grip or full-well grip, the Piscifun fly fishing rod has got you covered.
The White dots on the rod allows you to line up with the guides accurately and efficiently. What's more? The rod comes with a durable PVC tube that offers easy casting and target landing.
No products found.
Key Features
Available in various sizes ranging from 4W to 9W, the Piscifun fly fishing rod is a multifunctional tool.
The ceramic stripping guides offer high performance, while the chrome guides ensure smooth gliding lines. The graphite IM7 construction ensures improved precision, performance, and durability.
The different rod weights are suited to various fishing actions, including slow, medium, and fast. The 3A premium-grade cork and travel-friendly rod is a steal for the price you are paying.
More Details about the Product
The 4WT 8.6 ft is suited to anglers looking for small Trout or sunfish found in small streams.
If you want to aim for medium-sized trouts in larger streams, you need a 5WT/6WT rod with medium action.
The 7WT 9'0″ provides fast action for landing large and strong trouts. The half-well cork offers casting precision while preventing fatigue. The full cork allows the fly rod to balance seamlessly.
Specifications
Premium ceramic chrome guides
Precise placement of the fly for easy casting
Ingenious design and balanced rod
IM7 graphite construction
Functional and artistic, the Piscifun fly fishing rod allows heavy-duty trout fishing.
The affordable price and premium quality ensure a better value for money. Also, the lightweight design is ideal for landing your favorite Trout without much struggle.
Best Fly Fishing Rods For Trout – Buyer's Guide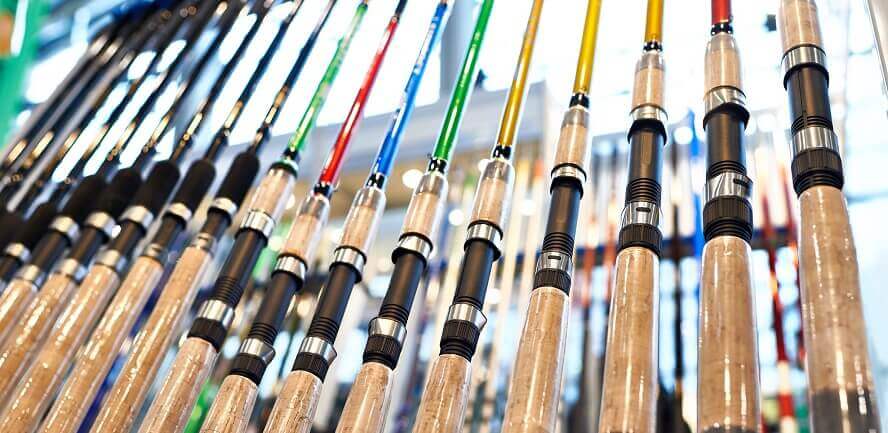 By this time in the read, you must have noticed that every fly fish rod has a unique feature to offer.
However, being the same category's product, there are a few common traits that you must be on the lookout for.
These traits define the fishing rod's overall quality and help you narrow down the perfect product for you.
Material
There is two popular used material used in the making of flying fish rods; glass and graphite. Nowadays, fiberglass rods are gaining immense popularity amongst users.
This is because glass has a more durable and stronger feel to it when compared to graphite. It provides a soft and smooth feel that offers a relaxed casting sensation.
Even though glass has a better feel to it, graphite tends to top seasoned users' choice. Graphite is known for its lightweight, crispness, and more sensitive action.
The lightweight of the rod allows you to act faster with ease. This provides convenience in times when there are strong winds.
Length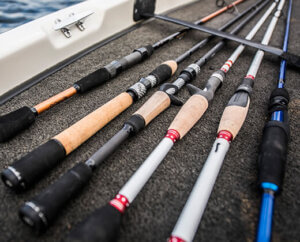 The length of the fly rod decides its line of control. The more comfortable the size will be, the better the fishing experience. You will have a better casting experience without it being cumbersome or complicated.
The 9 feet rod is one of the most common choices amongst people. However, a lot of people prefer a longer flyrod.
A longer fishing rod will be heavier in weight, but it has many advantages associated with it.
A longer fishing rod will give you a more extended angle. As a result, you won't have any difficulty fishing in a stream or water body surrounded by long thick grass fences.
A longer length also improves the line control and gives a longer casting distance.
A fishing rod smaller than 9 feet has diminished distance casting and line control capabilities.
If you choose to go fishing in small creeks and ponds, then a tiny length rod might not be entirely useless.
Also, it is easier to carry a shorter fishing rod, and you don't have to struggle through the foliage while using the same.
Line weight
Even though 5 weight is the most common and dominating choice for trout fishing, 4 weight can also be useful.
Trout fishing is mostly done around small creeks, rivers, or streams. A 4 weight is light on the hand and lets you have a more enjoyable and relaxed experience.
Even though it is light, it can cast in the light breeze and provide a memorable fishing experience.
If you plan to fish in bigger water bodies and even windier conditions, you might want to go for a 6-weight rod. It will help keep the rod firm and allow an appropriate casting.
If you are going for light tippets and fishes that are extra skittish, you can even go for a 3-weight rod for a better experience.
Rod Action
Rod action is another crucial aspect to look into before finalizing a fly rod. There are three types of rod actions; moderate, fast action, and extra-fast action.
Moderate fly rod action makes a perfect choice for those anglers who like to have a relaxed casting stroke. These rods can easily be used for trout fishing, but you might not feel satisfied with the action.
Fast action rod comes in the powerful rod categories. It is more of a versatile choice with both softer and stronger presentations. Extra-fast action rods are firmer and more specialized.
Their entire flex is concentrated on the tip and helps you better approach harsher conditions with stronger winds.
Frequently Asked Questions (FAQs)
✅ As a beginner, should I choose a glass rod or graphite rod?
A graphite rod is much lighter in comparison to a glass rod. Indeed, the glass rod will have a very smooth and buttery feel to it, but it can be heavy. Graphite rod, because of its lightweight, allows for better and faster action.
✅ Is it easy to assemble a flyrod?
A fly rod comes in 4 pieces usually. This is definitely one of the most commonly used configurations, but you can find the parts to lie in the range of zero to six, and sometimes even more.
It is pretty easy to assemble the rod. All you got to do is keep the pieces as instructed and join them carefully. A rod that comes in multiple parts is pretty easy to transport, making it a convenient choice.
✅ What line weight should I choose?
Depending on the region you plan to fish in, you can choose either a 3, 4, 5, or 6 weight. For trout fishing, 5 weight is most commonly used.
Conclusion
Fishing is one of the most memorable experiences you can have as a solo traveler or with friends and family.
What makes the experience even better is to have a flyrod that makes the process easy for you, and you can catch a fish!
After reading this detailed review, you must understand the different criteria you need to look into before making the final choice.
Since every person has different needs and abilities to control, it is better to do thorough research before investing in a fly rod.
Last update on 2023-05-29 / Affiliate links / Images from Amazon Product Advertising API