If you're starting to fish, you might be wondering, 'What is a baitcasting reel?' Well, to put it simply, it is a reel with a revolving spool.
This spool rests on top of a casting rod attached to a trigger handle. If you're familiar with its predecessor, the spinning reel, then this won't be all that new.
Reels come in both left and right-handed models. The handles must be chosen carefully, as you can't switch them out later.
This is a feature available only in spinning reels. Therefore, choose the one you feel most comfortable using.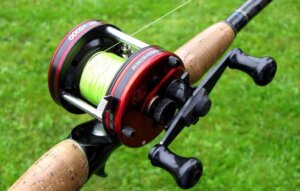 Using the Reel
If you have chosen a right-handed cast, the reel will be placed on your left as you will need your dominant hand (in this case, your right hand) to crank the handle.
This situation will be reversed for the people choosing the left-hand version.
If you don't wish to be switching hands, choose a setting where the spinning reel is the same setting as your desired direction.
Without beating about the bush too much, let's start listing down the reels as well as the pros and cons of each product.
While searching on the internet, you will come across a variety of casting reels. However, they tend to be pricey.
If you are looking for user-friendly best baitcasting reels for a light tackle at a good price, consider the KastKing Rover Round Baitcasting Reel. It provides efficiency at quite an affordable price.
That is why it is at number one on our Best Baitcast Reel for Light Tackle list for the best baitcasting reel for light tackle.
The design and added installments that it possesses make it a popular choice.
The user experience was the utmost priority while designing this product. The evidence for this can be seen in the product itself.
Features Included
The baitcasting reel is made using anodized aluminum side plates along with CNC machined spool. Inclusion of precision-cut brass gears with all alloy level wind.
It has the finest stainless steel worm gear and other stainless steel components, such as the shaft. This ensures durability.
KastKing Rover has improved its functionality and provides a more powerful drag system.
This can be attributed to the use of a carbon fiber drag structure. The new system, named Cymbal Washer, will make the process smoother for up to 30LB of drag.
These reels also come with a superior quality of MaxiDur stainless steel ball bearings.
Stainless steel ball bearings help to make the process of catching fish efficient and smooth.
Another feature that sets the KastKing Rover apart is that it can be used in either freshwater or saltwater.
It can employ a variety of techniques, such as trolling or bottom fishing.
It also possesses an oversized T handle with a strong grip for easy handling and control.
Also Read: Best Surf Spinning Reel for Distance [Top Pick for 2021]
This particular reel comes from a 3-part Tatula series (Type-HD, Type-R, and Tatula Base). As seen from the title for this product, we will be discussing the Tatula base reel.
It is high up on this Best Baitcast Reel for Light Tackle list because of the quality it provides, along with the reasonable price.
The use of aluminum makes it lightweight while still providing strength. This casting reel also comes with a complex air rotor system, which works parallel to the spool.
The company also came up with a line guide, which helped in better casting and reduced friction.
Features Included
The introduction of a T- Wing System helps the spool in easy line retrieval. It also helps in reducing the friction caused during casting.
The air rotor system works on mimicking the spools, which have holes drilled in to make them more aerodynamic.
The use of Carbon Drag Washers offers the best stopping power and smoothness. In addition to all these features, the Tatula also comes with a marvelous magnetic braking system.
Recommended: Top 5 Best Spinning Reel for Redfish [Budget Friendly]
This product has landed on the Best Baitcast Reels for Light Tackle list because it is one of the most lightweight products for reels.
This is not to say that the product is any less tough. The Lew's Speed Spool is built using a one-piece aluminum frame, which gives you a tough and durable casting reel.
The features will be listed down below. This particular casting reel offers the best functionality without compromising on aesthetics.
Features Included
It utilizes a two-way braking system, using two components; Magnetic and Centrifugal. The function of the spool is to allow the user to control spool speeds and reduce backlashes.
Due to the aluminum used, it is very lightweight.
The high quality is what makes Lew's Speed Spool one of the best bait casters.
This quality is not compromised even with the low price of the reel.
It currently has 4 models available.
Due to their high quality, Shimano Curado is always in high demand.
However, with their high quality also comes a high price tag. This is because of the expensive materials they use to make the baitcasting reel.
Features Included
The steel design makes it strong yet long-lasting and durable.
For making the spool, aluminum is used. Using aluminum will make it more functional while decreasing the overall weight. This makes it easier to catch bait with a light tackle.
The Shimano Curado can survive and push through harsh weather conditions.
An SVS infinity braking system is installed, improving the braking system.
In addition to all the above features, this baitcasting reel is saltwater approved as well.
Also available in 3 different models.
Why Use Baitcasting Reels?
Now, with already established methods, you will be wondering, 'Why does baitcasting exist?'.
Baitcasting reels allow you to capture jigs, spinnerbaits, and crankbaits with higher accuracy.
This does, unsurprisingly, require a higher level of skill, as you will need to thumb the spool while your line flows off.
However, if you don't find the perfect spot for thumb pressure, you will experience a great setback where you will end up with a line's tangled mess.
Using a bait caster, you can launch a bait further as the line will flow directly from the spool.
This was not the case in the spinning reel, as it would produce a circular motion and so becomes a device you will need some practice to master.
Profile Types for Reels
There are two types of reels; round and low-profile.
Round profile reels will allow you to use heavier lines as well as more lines. It can be used to toss larger baits. It can also be used for salmon, steelhead, pike, and muskie.
On the other hand, the low-profile reels are more user-friendly and popular because they provide you with easier wrist action, proving to be more ergonomic. It is used for species like bass and crappie.
Factors to Keep in Mind While Choosing a Baitcasting Reel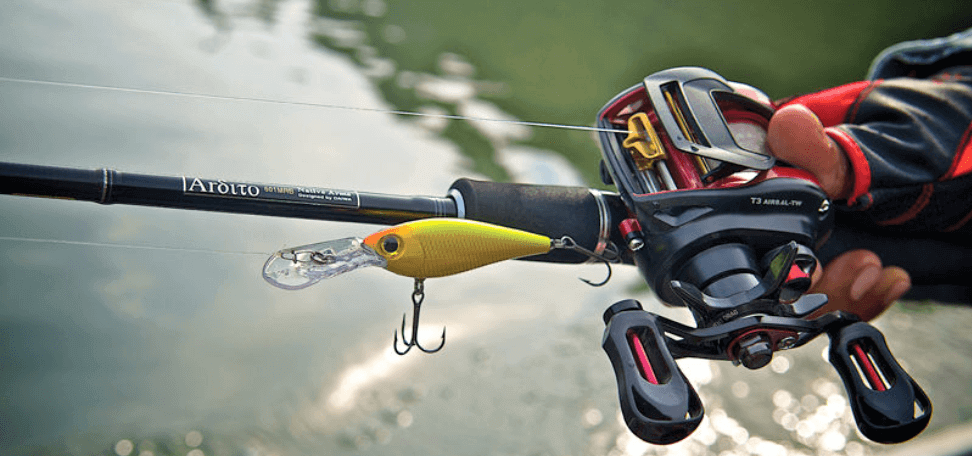 Casings
The edging comes in two materials, either aluminum or graphite.
Mostly, however, they utilize aluminum as it is more durable and cost-effective in the long run. The high-priced reels are mostly constructed using one-piece aluminum frames.
Handles
The handles must be the perfect size to improve grip. Soft Rubber grips are introduced in most reels. In addition to this, the size handles are mostly oversized. This allows people of all hand sizes to use the reels.
Ball Bearings
The best baitcasting reels don't have too many ball bearings, but they utilize quality ones.
Therefore, splurging your money on a reel with good ball bearings will be much better than buying a cheaper option with more bearings.
Spools
Most of the items reviewed here have aluminum spools. The high-quality forged aluminum is much tougher and resistant to corrosion.
The addition of holes in spools makes them easier to work with as it makes them stop and start the movement more fluidly.
Line Guides
These guides are made from titanium or ceramic. Ceramic is utilized in low-end reels, as it is less expensive but can break easily. High-end reels utilize titanium.
This is worth spending the extra money because of their relative durability.
Weight
The first factor to consider will be weight. Choosing a lighter weight will give you a smaller spool size, giving you more control over the reel.
A low-profile bait caster would be the best for catching light tackle items, as it will not damage the wrist.
If you chose a lighter-weight reel, going for an aluminum one would be the best option.
However, if you have your eye on a larger reel, choose a heavier one by half of the amount.
Gear Ratio
The next factor after weight would be the gear ratio. The average round profiles have a ratio of 6:0:1.
Contributing to the fact that the low-profile reels have a smaller spool length, they will also accommodate less.
Round profile reels will be able to provide more line capacity. This will, however, depend on what your purpose is. In case of a long trip, a round profile reel would be handy.
Types of Baitcasters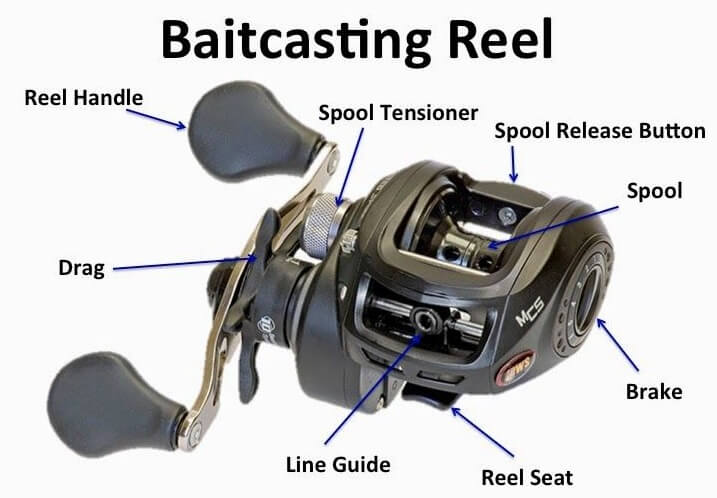 A round bait caster will give you a good drag system, better than spin reel or even low-profile reels.
This is due to their accessories and how they reduce air resistance because of their design. Using a round bait caster will be the best for baits such as tuna, halibut, etc.
Even though some finessing will be required to get the bait casting technique just right, the practice will surely pay off.
You will be able to capture baits about 3-16th of an ounce. Therefore, using the bait caster will always pay well afterward.
Now that the market has diverse options, you won't need to place an order abroad for the finest reel. You can buy them right in the US.
The plethora of options might cause some confusion, but with our recommendations in mind, you will be all set.
The lightweight reels are all the rave. Therefore, production companies apply their best efforts to make the reels around 6 ounces.
Meeting the weight requirement is not all. These particular reels must also be able to perform remarkably.
The Right Bait Caster for You
The most important thing to consider when choosing a bait caster is your budget, as a bait caster can either be cheap or high-end.
While considering the price, determine its usage as well. The style of fishing you are going for with the reel will also need to be considered.
This, in turn, will help determine your ratio. If you're looking for a light tackle, the gear ratio will be higher, making the spool size smaller. This will also mean that your retrieval rates will be faster.
After determining your budget and your way of fishing, head on over to your bait and tackle store.
If you can't go out, you will be able to find a plethora of reels online. However, the feel of the bait caster can only be felt in the store.
This is not the only important factor, as you will need to figure out each reel part's workings. The parts involved being the drag, clutch, etc.
The braking system will also need to be looked at and tested out in the store, as you will need an idea of how to operate it.
Parts of a Bait Caster
There are three parts to casting a bait caster. To understand how each part works, let us first understand the function of the cast.
This is where the bait caster will differ from the spinning reel. The bait caster will feed the line after the spool is launched.
After feeding the line to the bait, it travels through the air. Therefore, wind resistance, gravity, and other forces will slow the bait down.
The spool will function to continue to feed line at the same rate throughout. If the angler doesn't slow the spool, it will end in disaster.
Step 1
The first thing involving the cast is to launch the bait from the rod tip. This is done by removing the thumb from the spool. This is a crucial step that involves a spool control knob.
Step 2
Due to air resistance and gravity, the bait will slow down. This is when you will need to initiate the braking system.
Step 3
The final step is after your bait is descending and touching the water. This is where you will need to thumb the spool.
Preventing the Bird's Nest
The easiest way to prevent the tangles from forming is always to keep an eye on the spool. Look out for any instance of looping or irregularities in the line.
If you find any, it's best to correct them early on. The line of the spool must be wound neatly and tightly.
The spool line must be completely flat and not show any lumps or bumps. There should not be any on the outside edges or even in the middle of the spool.
However, even if you are cautious in your dealing and setback occurs, don't panic.
The immediate response would be to restrict the spool with your thumb. After which, proceed to pull the line forward manually.
On most occasions, the line will untangle once you pull it. However, if a tangle does not unfold, it will start to resemble a bird's nest, hence the name.
Regardless, try not to despair as the line can still be used once tangled. The tangle is not as bad of a setback as you may think and is still workable when fishing.
Conclusion
To find the Best Baitcast Reel for Light Tackle, you will need to look at all the factors mentioned above.
These guidelines will help you decide your requirements and what you are looking for in a caster.
This article consists of the Best Baitcast Reel for Light Tackle and the pros and cons of why they might be the one for you.
In addition to this, information regarding the bait caster itself is also given. We hope this article helped increase your knowledge about bait casters and helped you make a decision.
Last update on 2023-05-29 / Affiliate links / Images from Amazon Product Advertising API