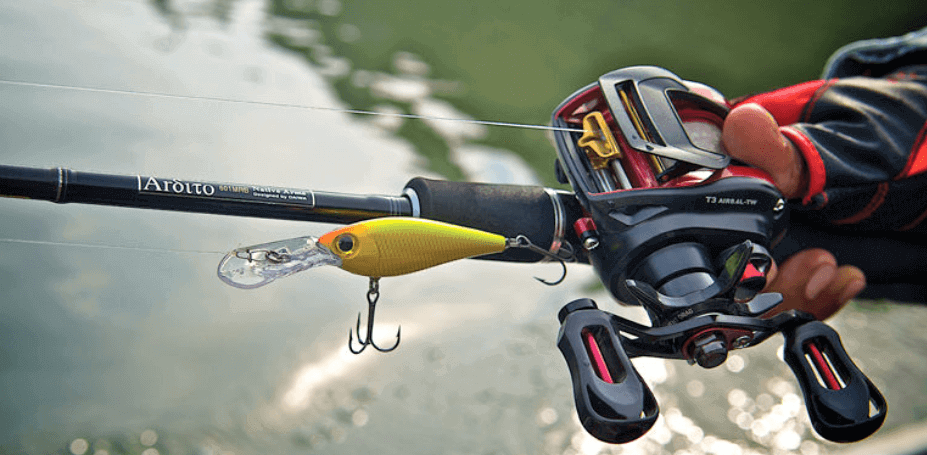 You can be an expert at fishing, but you will never feel satiated with the tools you have. Similarly, if you're a beginner at fishing, you will be overwhelmed by the number and type of tools you can try.
If you've been using spinning wheels for a while, you might want to try using a baitcaster combos.
The reason being their versatility, affordability, and easy usability. Moreover, they can be used to cast lures to catch the big game.
If you're looking for the best baitcaster combo for beginners, you've landed on the right article.
Here, we have shortlisted seven of the best baitcaster combos and created a comprehensive buyer's guide for your convenience.
Quick Overview – Top 7 Baitcaster Combos for Beginners
Best Baitcaster Combos for Beginners – Product Reviews
Fishing is much more fun when you have the right tools for it. With the best baitcaster combo for beginners, you can up your fishing game to a substantial level.
In this section, we have shortlisted seven of the best combos to make buying easier for you.
All the products reviewed below are the best in terms of quality, durability, and casting performance.
Therefore, you can choose any of these products to get the most out of your next fishing trip. So, without further ado, let's get to the reviews!
Are you looking for a lightweight and compact product in the best baitcaster combo for beginners?
You should seriously consider the Abu Garcia Black Max Baitcast Combo. This product is so easy to handle that you'll understand the nooks angling in no time.
The combo consists of a medium-powered rod featuring medium-speed action and a decently balanced reel. The amalgamation of power, flexibility, responsiveness, decent drag, and retrieval is commendable.
Since this baitcaster combo is specifically designed for beginners, it neither excels nor lacks in any category.
However, the product's durability is worth appreciating. Made of graphite composite, the entire construction is well put together for reliable, long-term use.
Main Features
Rod and reel made of graphite composite for overall lightweight construction.
Reel made of four stainless steel ball bearings along with a roller bearing.
Allows for smooth braking with the Matrix braking system.
Smooth and comfortable drag performance.
Advantages
There are not many products in the market that can be as well-balanced as the Abu Garcia Black Max Baitcast Combo.
At an affordable price, this product's amalgamation of all necessary features is commendable.
There are very few products in the market, allowing you to smoothen your learning curve with as much ease and affordability as this one.
Specifications
Material: Graphite Composite
Brake System: Magtrax with an aluminum spool
Length: 7 feet
The best baitcaster combo for beginners is the one that can smoothen the learning curve at ease, and this product does that.
With its lightweight and balanced construction, you will get the hang of using baitcaster combos within no time.
Also Read: Top 10 Best Deep Sea Fishing Rod and Reel Combo in 2021
To be the best baitcaster combo for beginners, the Tailored Tackle Bass Fishing Baitcaster Combo poses a serious challenge to the other products in the market.
Packed with a handy and informative baitcasting guide, this product is great for learning the early tips and tricks of baitcasting at ease, to begin with, the right techniques.
As a beginner, you will enjoy fishing bass and other mid-size species, and this baitcaster combo is made specifically for that purpose.
Therefore, the rod is over 7-feet long with low flex, high sensitivity, and medium-heavy action.
With a 6.3:1 gear ratio of the 7 + 1 ball bearing system reel, you will be delighted by the smoothness you will feel with the product.
You get to experience fast retrieve, smooth braking and zero to low backlash.
Main Features
Long fishing rod and medium reel perfect for medium-sized fish.
Designed specifically for beginner anglers.
3:1 gear ratio with a smooth braking system.
Pop-off and easy to cast reel system.
Advantages
Unlike most expensive rods and reel combos in the market, this product is designed carefully to make your learning experience smooth.
If you're looking to overcome the fear of the complexity related to professional baitcaster combos, this is the product for you. It makes casting and line management extremely simple with its smooth system.
Specifications
Material: Graphite composite with stainless steel guides
Gear Ratio: 3:1
Length: A little over 7 feet.
As a beginner, you are sure to appreciate the ease to use and the baitcasting guide coming with the product.
If uncomplicated learning is all you care about, this is undoubtedly the best baitcaster combo for beginners.
Recommended: Best Fishing Rod and Reel Combo for the Money in 2021
Learning how to fish can be expensive at times because of the multiple tools you have to invest in.
Therefore, budget tools are heaven-sent for beginners since they do not pose the threat of a long-term high-investment commitment.
The KastKing Cadel Casting Combo is one such affordable beginner product.
One of the things we like about this product is its versatility.
You can buy it for either left-handed or right-handed people while choosing the appropriate size and power. Therefore, you can learn at a comfortable pace.
Even though the product is affordable, you will not see it lacking in any sense.
Made of sturdy IM6 graphite and stainless steel, the rod and reel are very durable and strong. The rod also features LT's aluminum-oxide rings and guides.
Even though the rod's handle is very stiff for a firm grip, it is flexible enough to feel the slightest tug in the water.
Similarly, the reel is easy to handle but has the perfect 6.5:1 gear ratio. It is compatible with most fishing lines, allowing for incredible flexibility.
Main Features
Autonomy over your learning experience with a choice of size, retrieve side, and power,
Sturdy and durable construction.
Hassle-free leaning with smooth and comfortable casting, braking, and retrieval.
Advantages
Not every person wants to invest in expensive products while they are only beginning to learn a skill.
Therefore, this KastKing product allows users the autonomy to pay less for learning a skill and deciding whether they like it enough to invest more.
Very few affordable products in the market are made with such sturdy materials and allowed this smooth functioning.
Specifications
Materials: IM6 graphite composite, stainless steel, LT's aluminum oxide.
Gear Ratio: 6.5:1
Length: Option to choose between 6'6" and 7'0" rods.
The most important thing for most beginners is budget, and the KastKing Cadet Casting Combo has that covered. It is hard to get this product's quality at this low price.
The reason why the Shakespeare Alpha Medium 6' Baitcasting Combo is in line for the best baitcaster combo for beginners is its easy handling.
The product is lightweight, compact, and nothing less than a blessing to anyone learning to angle.
The combo features a short 6 feet rod with a pre-loaded graphite reel. The maximum line the lightweight reel can handle is 8 pounds, and that is what you get pre-loaded in the package.
The short rod is great to help beginners easily maneuver and experiment with casting.
The overall product is incredibly lightweight and is great for portability due to its 2-piece design.
However, you will have to do some extensive brain exercise while putting the pieces together.
Along with graphite, the rod features tubular glass and EVA grips.
The reel, too, is made of graphite and has bits of stainless steel in it. Therefore, the overall construction is commendably durable.
Main Features
A low-profile budget-friendly option for all new anglers.
Lightweight design and a short rod for easy handling.
Comfortable and sturdy grip.
Advantages
Not many products in this range come with a tubular glass construction and pre-spooled reel.
The product's well-balanced performance is great to introduce anyone to the world of fishing.
Moreover, the sturdy drag system and casting accuracy make the product a complete beginners' paradise.
Specifications
Materials: Graphite, stainless steel
Length: 6 feet
Grip – Sturdy EVA grip for comfort and sturdiness
We like how this baitcaster combo is the perfect in-between of performance and price.
While it is not the cheapest product in the market, the pre-spooled reel and durable construction make up for the little extra cost.
If easily handling is your foremost concern while looking for the best baitcaster combo for beginners, you should consider the Ugly Stik Elite Baitcasting Combo.
The company is renowned for its quality products and is well-respected by seasoned anglers throughout the world.
Therefore, there is very little risk involves when it comes to performance quality.
Since this is a one-piece baitcasting rod, it might not be the best for portability. However, the design works well for durability and sturdiness.
We like the combo's lightweight and decent performance. The rod and reel are made of graphite.
However, the two ball bearings in the reel are made of stainless steel. The combo allows you saltwater use as well.
The combo features decent accuracy and retrieval rate. The reel has a medium-sized line capacity good enough for beginners.
The product is great for catching small fish. However, it runs a risk of giving out of a large fish puts up too much fight with the line.
Main Features
The rod features a cork component for grip.
The rod's tip is extremely flexible and reactive.
The construction features 35% more graphite than other models by the company.
Allows for decent experience building for beginners.
Advantages
One of the greatest advantages of this product is the fact that it is manufactured by one of the leading brands in the industry.
The product's overall durability is not under question as long as you do not catch too large a fish.
We like how this beginner's baitcasting combo is made at par with the professional range by the company.
Specifications
Materials: Graphite, stainless-steel, aluminum, and wood cork.
Bearings: 2 stainless steel ball bearings.
Length: 6 feet rod.
In your beginning phase, you will require a combo that can aid your learning curve instead of helping you catch big fish. This product is a perfect example of such a product.
We have seen some of the best baitcasting combos for beginners till now. However, wouldn't it be great to have a product you can use even when you have mastered certain techniques?
After all, who likes wasting a perfectly good combo just because you've out-skilled its capabilities? If you're that person, you'll like the Berkley Big Game Baitcasting Combo.
This handy baitcaster combo comes with medium action and can be used both in saltwater and freshwater.
We like the product's utilization of six ball bearings. The gear ratio is pretty low, however.
The product has a smooth cast and slow oscillation. It also has perfect casting accuracy and slow oscillation for even lay lines. The retrieval rate is also quite decent, allowing for fast fishing practice.
All the parts are extremely durable. While the rod and reel are primarily made of graphite, the bearings are made of stainless steel, and the spool is made of cast aluminum.
Therefore, the product is not only sturdy but also lightweight and powerful.
Main Features
It is made for both freshwater and saltwater fishing.
Six stainless steel ball bearings.
6'6" rod for comfortable handling.
Smooth and accurate casting system.
Advantages
When compared to the other products present in the market, the Berkley Big Game Baitcasting Combo is extremely affordable.
However, you will not see a you-get-what-you-pay-for deal here. The baitcaster combo is extremely powerful and eye-catching and can be used by professionals as well.
Specifications
Materials: Graphite, stainless steel, aluminum.
Gear Ratio: 5.1:1
Length: 6'6"
There's nothing better than a budget product you can use even when you'd learned the basics of fishing.
This baitcaster combo by Berkley allows you to enjoy fishing the same way regardless of your expertise.
Till now, we have seen some of the best baitcasting combos for beginners. However, what's better than all of them is a baitcasting combo fishing fit.
The product comes with not only a fishing rod and reel but also with an array of other tools such as tackle, lures, and hooks in a carrying case.
Other than the variety of tools included, you also get the option to choose between eleven lengths varying between 5'9" and 7'9.
Therefore, you can choose one of the smallest to one of the biggest rods out there to learn new fishing techniques.
Both the rod and the reel are made of high-grade graphite. The CNC brass bearings and the cast aluminum guides add more strength to the kit for maximum utility.
Moreover, the materials are arranged in such a manner that the construction does not allow ant line tangling.
This product is perfect for both freshwater and saltwater angling, allowing you to invest in a single product for overall practice.
You can catch not only small fish but also salmon, trout, and mid-sized bass with this baitcaster combo kit.
Main Features
It is constructed in a telescopic design for easy portability and storage.
All the equipment comes in a heavy-duty nylon case.
Perfect for beginners or impromptu fishing trips.
Advantages
The sheer number of tools required for fishing can be overwhelming for any angler.
Therefore, we like how once you invest in this fishing kit, you are done with most of the packing already.
Unlike most beginner products, this combo allows you the possibility of catching medium-sized fish as well.
Specifications
Materials: Graphite, brass, cast aluminum
Gear Ratio:0:1
Size: 11 choices between 5"9' and 7'9"
We like how the product comes with a variety of different tools allowing the product to be extremely versatile.
Key Factors that Your Best Baitcaster Combo for Beginners Should Have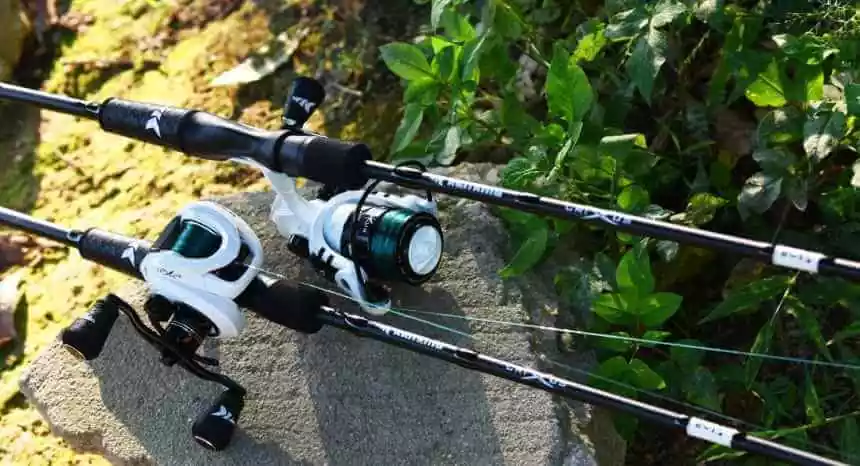 When you venture into buying the best baitcaster combo for beginners, you will be overwhelmed with the number of options you will have.
Baitcaster combos come in varied sizes and features, making picking out the best option very confusing.
While looking for the best product, you will have to consider a few things according to your requirements.
Below are some key factors you shouldn't compromise on while purchasing the best baitcaster for beginners.
Length
The baitcaster combo's rod length matters a lot, especially when you're looking for the best baitcaster combo for beginners.
The shorter the rod, the easier it is to handle, allowing for better maneuvering and control. Moreover, short rods allow for better casting accuracy, allowing for a better experience while fishing.
Material
Much like any equipment, the better the materials, the higher the product's quality. The highest attention you'll want to pay to are the materials used to make the major of the frame.
Most rods and reels are made of graphite and aluminum because of their sturdy yet lightweight and flexible properties.
Other materials such as tubular glass and stainless steel add an extra element of durability to the construction.
You can also find fishing reels in a baitcasting combo featuring brass bearing for incredible longevity.
Gear Ratio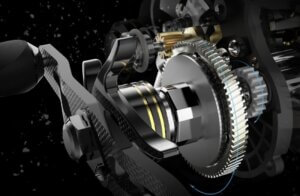 A reel's power and productivity are generally mentioned through the gear ratio.
The gear ratio is written as x:y, where x stands for the number of times the spool will rote while you turn the handle y number of times.
The higher the gear ratio, the faster the retrieval and the more the possibility of catching your target.
The most accurate gear ratio on most reels is 6.5:1. It is fast enough to retrieve the line quickly while not being fast enough to lose your game while pulling.
Action
Action is an important thing to consider while buying any spinning wheel or a baitcaster combo.
When you're a beginner, you will like using medium-action products since they allow you enough accuracy and control to learn new techniques.
Medium-action reels do not have expertise in any specific category. Therefore, they perform decently in all aspects, allowing a balanced learning curve.
Budget
Budget is especially important to consider when you're buying a beginner product. Many-a-times, you might end up buying an expensive product only to find yourself not liking the activity, waking your investment.
Moreover, it is not always necessary that if you buy a low-range product, you will get bad performance.
We suggest you buy a low to the mid-range product when you're only learning how to fish. You can invest in a better-grade product once you've got a knack for fishing.
Baitcaster Combos for Beginners (FAQs)
Do you still have certain questions regarding buying the best baitcaster combo for beginners? Well, you're not alone since every investment requires careful thought.
Therefore, we have answered some of the most commonly asked questions similar to the topic at hand. We hope you get further clarification from this section.
✅ Is Baitcasting Better than Spinning?
You will see most professional anglers using a baitcaster combo instead of a spinning reel. The reason behind this is that baitcaster combos allow you to have much better accuracy and control in the long run once you've mastered the basics.
However, spinning reels can be used in just about any situation without particular mastery in anything.
Spinning reels are great for overall performance. However, if you want a professional upgrade to your fishing game, using a baitcaster combo is your safest bet.
✅ Are Baitcasters Worth it?
Most people worry about the money that goes into buying a decent baitcaster combo. Therefore, it is important to remember that the investment you make for a baitcaster combo is worth every penny because of the tool's utility.
Baitcasters can hold thicker and heavier lines than spinning reels. Moreover, the accuracy and durability they offer are incomparable.
✅ What Line Size is Perfect for Baitcasters?
Baitcasters are not generally used for light lines. Therefore, you should either use thicker and more sturdy lines with them.
You can use any of the lines available in the market that are specifically designed for baitcasters. Most of them have 100 as their smallest size and 400 as their largest.
Final Thoughts
Fishing is a fun sport, but it heavily relies on the tools and equipment you use. Therefore, buying any fishing toll requires a lot of research and thought.
When you are only beginning to use a baitcaster, it is best to stick with a medium-action product sold at a low price. You can choose any of the product reviews on this list because they are all top of their class.
Last update on 2023-05-29 / Affiliate links / Images from Amazon Product Advertising API