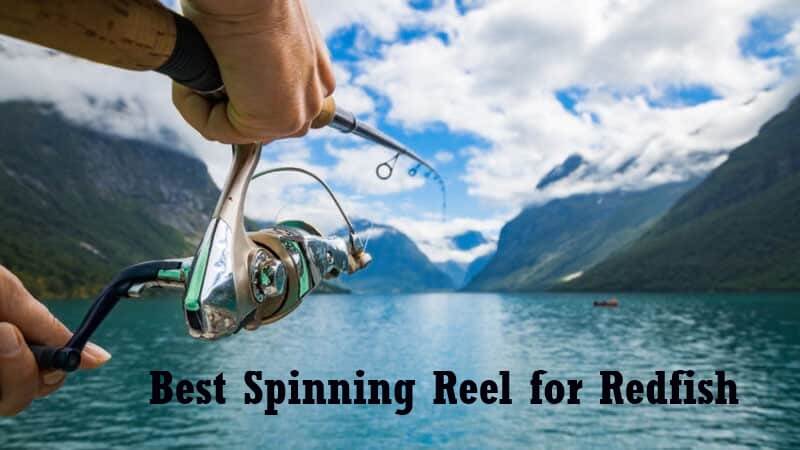 Catching redfish is fun since it is a game fish. However, it is not easy since you need powerful fishing rods and reels. People go for redfish when no other species are biting.
They may be easy to catch with different lures but controlling them is another thing. However, these spirited fish put up a strong fight once they get hooked.
To help you catch redfish successfully, we have reviewed some strong reels. Discover the best spinning reel for redfish and read the buying guide to find the right reel.
The guide also answers some common questions related to these spinning reels.
Quick Overview – Best Spinning Reel for Redfish
Best Spinning Reel for Redfish Reviews
You need to choose the best spinning reel for redfish to have a good fishing success rate.
Whether you are an experienced fisherman or amateur, you require the right reel. Read on to find different reels reviewed in detail.
The Penn Battle II Saltwater spinning reel is a highly recommended for redfish and similar-sized species.
A notable feature of this reel is its durability which is essential for a reel in saltwater.
Equipped with 5 ball bearings of stainless steel construction, this reel proves to be a tough model.
Key Features
In your search for the best spinning reel, the Penn Battle II is sure to come up.
This reel is perfect for saltwater conditions and will not wear out easily. The HT 100 carbon fibre drag system keeps the functionality smooth.
These carbon fibre washers ensure no build-up of heat from excessive friction. In addition, the reel's spool system does not need any backing and has a ready braided line.
There are three line capacity markings on the spool. These markings are at 1/3, 2/3, and full capacity.
More Details about the Products
The Penn Battle II has different size variations – 1000, 2000, 3000, 4000, 6000, and 8000.
For catching redfish, you could go for the 2000 or 3000 version. These versions have their weight-bearing and line capacity.
However, the gear ratios of both these versions are the same at 6.2:1.
The five ball bearings are not just sealed, but they are shielded. This makes it perfect for use in saltwater since the inner components are corrosion-resistant.
These ball bearings are also equipped with a setting of anti-reserve, which prevents slipping of the line.
Specifications
Carbon fibre drag system of HT 100
Five shielded ball bearings
Very lightweight and durable construction
Variable size availability
The 2000 and 3000 size variations of the Penn Battle II will be perfect for catching the red drum. You can also opt for other sizes to catch other species.
Though the reel may be on the higher price spectrum, the features ensure that you get value from your investment.
Also Read: Best Baitcasting Reels for a Light Tackle – Beginners to Experts
The Abu Garcia Revo SX is a strong contender in redfish's best spinning reel.
This reel is favored for its amazing engineering. In addition, the high durability of the reel makes it a highly recommended model for saltwater fishing.
Key Features
The C6 carbon construction is a hit for this spinning reel. This construction makes it a lightweight reel and perfect for sports fish.
The reel also has a unique feature which is the X-craft gearbox formation. This makes the catch more efficient and difficult to drag the fighting fish.
The rocket spool lip defines the casting capacity of the reel. You can control the rate at which the spool line comes up.
This makes the spinning much easier and more accurate. The RSL feature also gives immense control to the user while casting.
More Details about the Products
Having a good grip on your reel, derived from the aluminium braid spool.
The spool's lineup is adjusted properly, and there is no slippage while holding. Another very amazing feature in the reel is the K-clutch system.
With this system, you can anti-reverse the line smoothly. In addition to this, the bail system is designed to function for a long time.
It is made from high-quality stainless for everlasting functionality. This is coupled with the AM gearing feature, which enhances the operation.
Specifications
Highly durable carbon construction
Anti-reverse system
Improved casting capacity with rocket spool lip
Front drag reel
The reel consists of two unique elements – rocket spool lips and an X-craft gearbox. This is not present in most spinning reels.
Moreover, the amazing drag system and hard-built body will increase the durability and efficiency of the reel.
KastKing is a very popular name in the market but produces budget-friendly products. However, they do not compromise the quality of their items.
The KastKing Sharky III spinning reel is no different and equipped with some amazing features.
Key Features
Finding the best spinning reel for redfish may provide you with a moderate to high price product.
However, the KastKing Sharky III is a budget-friendly option with a high-quality built.
There are five variations of the spinning reel. However, for redfish, you can choose the 4000 and 5000 variants.
The 4000 has a capacity of 220 yards with 10 pounds test and 200 yards with 12 pounds test.
On the other hand, the 5000 variant has a capacity of 220 yards with 12 pounds test and 190 yards with pounds test.
More Details about the Products
The frame used in the construction of the reel is lightweight aluminium. It has been balanced properly to provide users with smooth reel functionality.
The unique drag system of the reel can stop a drag pull of a maximum of 39.5 pounds.
It has a steel shaft coupled with a mesh gear drive. This helps prevent damage or loss of catch when the redfish battles.
The 4000 and 500 variants weigh about 10.2 oz and 10.6 oz, respectively. Moreover, they both have 39.5 pounds drag capacity.
Specifications
Variable size specifications
Equipped with KastKing Intrusion Shield System
Powerful spinning reel with high line capacity
Shark Fin Braid ready aluminium spool
Choosing the 4000 and 5000 size variant for this reel would be suitable.
This economical spinning reel is perfect for amateur fishers or users with a tight budget. However, there are limited features that can be an advantage for first-timers.
Balance is crucial when you opt for the best spinning reel for redfish.
You will find this balance in the SeaKnight rapid fishing reel. This is also a budget-friendly option but is equipped with some amazing features.
Key Features
The balance in this spinning reel is exceptional, with strong features and lightweight construction.
This reel has better functionality than most high-end spinning reels. Moreover, you can use this reel for both inshore fishing and surfcasting.
When choosing the SeaKnight Rapid, you could opt for the 5000 and 6000 size variants. Both these variants weigh 23 oz and have a gear ratio of 6.2:1.
You can also use these two variants for other fishing needs. The line capacity of these two sizes is different from each other.
More Details about the Products
The spinning reel is equipped with some high-quality elements. There is a ball bearing feature of ten counts, which prevents corrosion.
These bearings are made of stainless steel, ensuring no damage, even with frequent use in saltwater. This means you can use the spinning reel for several years without problems.
Another great thing about the reel is its anodized and machined aluminium construction. It also has a line-ready braided spool.
You also get smooth reeling due to the presence of a drag system made from carbon fiber. The drag system capacity is 33 pounds (15 kg), perfect for large redfish.
Specifications
Sealed aluminium rotor and spool construction
The main shaft is thick and durable
Equipped with a coating to prevent corrosion
Ball-bearing of stainless steel
The SeaKnight Rapid Surf fishing reel can catch redfish in different situations.
It has all the necessary components that make it capable of boat and surf fishing. Moreover, this lightweight yet strong model makes it easy to handle.
Daiwa has been in the market for over 60 years and is known for high-quality reels.
The Daiwan BG spinning reel is widely known for its high line capacity and large-sized spool. Durability is not an issue with this reel due to the aluminum construction.
Key Features
The first thing you look for in a spinning reel is its construction. When it comes to the Daiwan BG spinning reel, you would not be disappointed.
It is equipped with an ABS spool of dynamic cut coupled with an aluminum body.
The construction would make it possible for you to use the reel for several years. Moreover, the drag system is water-resistant.
This makes it free from corrosion and gives you a smooth reeling experience. You can also use this reel in both saltwater and freshwater.
More Details about the Products
A great thing about the Daiwan BG is the smooth spool line. There might be a fear of tangling; however, this is not the case with the Daiwan BG spinning reel.
Moreover, with the larger roller, you can prevent line twists, loops, and wind knots.
Another useful feature of this spinning reel is the solid lock on the hookset and easy bail opening.
The stylish design is also a reason for making it a highly favorable spinning reel. This moderately priced reel offers good value for its price.
Specifications
Return bail is manual
Water-resistant drag system
Anodized and machined black aluminum housing
ABS spool equipped with dynamic designed aluminum
Everything you need in a spinning reel is found in the Daiwan BG spinning reel. It is long-lasting and works well for heavy-duty fishing.
Despite the large spool size, the reel would not feel heavy in your hand. Moreover, the handle arm gives you a strong grip required during large catches.
Best Spinning Reel for Redfish Buyer's Guide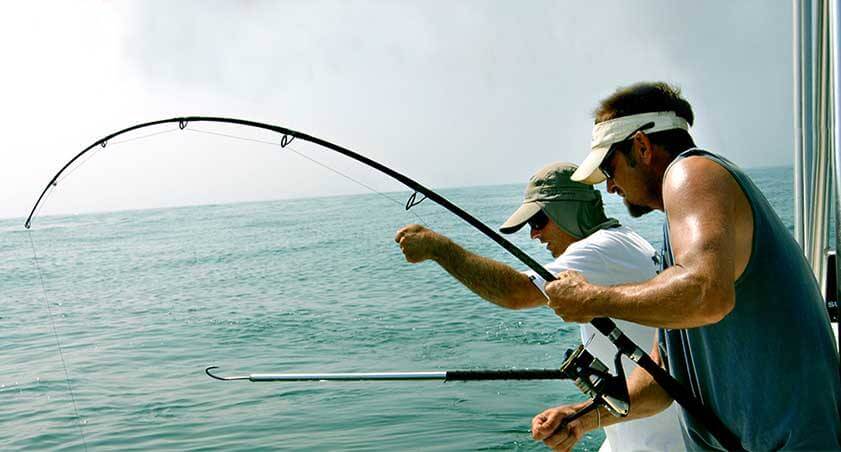 Almost every famous brand makes reels suitable for catching redfish. That is why people who are amateurs will find it difficult to make a choice.
Despite the numerous choices, not every fishing reel is suitable.
Knowing the important considerations will help you in making a choice. In the buying guide below, we have listed some of the key selection considerations to assist you in your purchase.
Line Capacity
Redfish is a sports fish and is famous for its quick swimming ability. You would need to opt for a fishing reel that is fast for catching them.
This is more applicable when you are planning to catch redfish during the winter. You would need a long fishing line because they tend to stay at the bays' bottom at this time.
When catching redfish in the summer, you can find them around 10-30 feet below water level. This means that you can work with a shorter line capacity.
However, it is better to choose longer lines since you can use them for both seasons. Opt for a high line capacity with deep spools.
Weight and Size
It is common knowledge that for catching redfish, you would require medium or ultra-light fishing reels. However, some lightweight reels may not function as desired.
For that, you have to know the type of material that would be good for these reels. For best performance, it is better to go for aluminum or graphite-made reels.
Both these materials have lightweight and durable reels. If you opt for a heavyweight reel, then you will struggle during your catch.
The same goes for small or large-sized reels, both of which will hinder your efficiency. That is why a medium-sized reel is your best bet for such a fast species.
Gear Ratio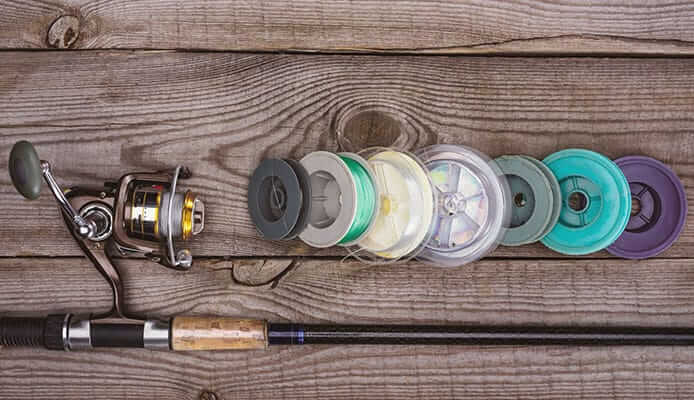 Very crucial hardware that helps in the functioning and efficiency of the reel is the gear ratio. The gear ratio indicates the times that bail would rotate around the fishing reel.
When the gear ratio is high, then the reel will be fast and vice versa. While some fish would require a lower gear ratio, you could catch some better with a higher ratio.
When catching redfish, you will need a high gear ratio so that the reel spins fast. You can go for a 5:1 gear ratio or higher for this species.
With this gear ratio, it will enhance your efficiency, and your success rate will be higher.
Drag Strength
Redfish is a large-sized fish and would need a powerful reel that has high drag strength. A market-sized red drum's average weight is around 25 kg.
When selecting the best spinning reel for redfish, you need to see the weight-bearing capacity.
The drag strength would also decide its versatility. If your drag strength is low, then you will be unable to make the final catch even if the fish is hooked.
This is especially true for a sports freshwater fish like the red drum that fights after hooking.
Corrosion Resistance
An inshore environment is not good for the durability of your spinning reel and may lead to corrosion.
Saltwater corrosion can wear out the reel faster and reduce its durability and workability.
That is why you need to be very cautious of the built quality. If the built quality is not good, then the reel will get damaged very easily.
When choosing the best spinning reel for redfish, make sure it has an extra protective coating.
The protective coating and strong-built quality are the two things to look at when making your choice.
If these two elements are present in your reel, then it would not get damaged easily.
Frequently Asked Questions (FAQs)
Questions will arise in your mind when buying the best spinning reel for redfish. Without finding proper answers to these questions making your choice might become very difficult.
To erase any doubts, we have answered some common questions that you might be searching answers for before making your purchase.
✅ What Size Of Spinning Reel Should Be Used For Redfish?
For redfish, you could use a 2000 or 3000 series reel when using a spinning reel. It has already been stated that a medium-sized would be good for this species.
Going for a larger size may be difficult for you to handle. Large-sized spinning reels would be heavier and would be hard to control after the catch.
✅ What Is The Gear Ratio To Be Used For Redfish?
The gear ratio would make the spinning reel more versatile and increase your efficiency. You could choose a reel with a 5.0:1 or 6.0:1 gear ratio. This would let you use variable sizes and shapes of baits and lures.
✅ What Is The Drag Strength Required For Catching Redfish?
For catching redfish, higher drag strength is required. That is why you could for a maximum of 15 to 20 pounds for redfish.
With this strength, you could even haul a bull red drum. Drag strength than this would make it difficult for you to pull your catch successfully.
Final Verdict
The guide provides you immense assistance in finding the best spinning reel for redfish.
Even though all of the products listed here are perfect for redfish, the Penn Battle II Saltwater Spinning Reel could be your best choice.
It may fall in the higher price range but is equipped with some amazing and useful features.
If you are on a strict budget, then the KastKing Sharky III Spinning Reel is suitable. It has some basic features that are good for catching different-sized redfish.
Moreover, it is very budget-friendly and ensures that you do not burn the bank to buy a suitable fishing reel.
Last update on 2023-05-29 / Affiliate links / Images from Amazon Product Advertising API