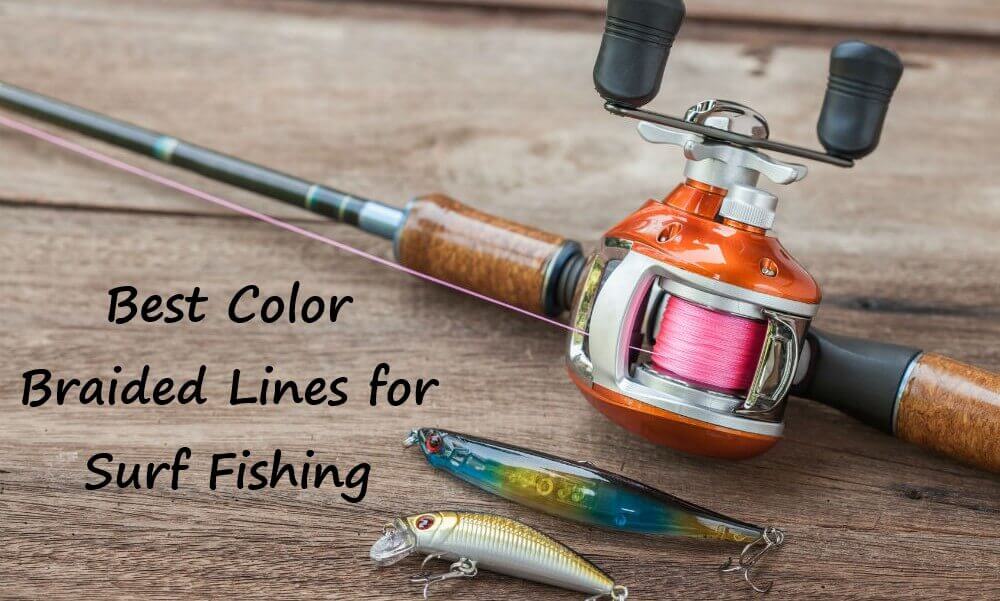 If you have gone fishing several times, you would know the importance of line, especially during surf fishing.
While there are different types of fishing lines available, a color braided line would be your best choice.
With the right color braided line, you will be able to catch plenty of fishes and make your experience memorable.
But with hundreds of options available, the problem is which braided line is the right one for you.
Don't worry because we have reviewed the best color braided lines for surf fishing to help you decide.
Quick Overview – Top 5 Best Braided Line for Surf Fishing
Top Color Braided Lines for Surf Fishing Reviews
Finding the best color braided line for surf fishing is a challenging task. You have to look for features and compare all the braided lines to select the most suitable one.
But to make it convenient for you, we have reviewed the five best color braided lines available in the market.
Power Pro is one of the top manufacturers of fishing lines. When you need a strong, thin, and smooth color braided fishing line, Power Pro Spectra fiber is the perfect choice for you.
Among many other features, this braided line is made from authentic spectra fiber.
The ultra-strong spectra fiber makes this braided line ideal for both saltwater and freshwater fishing.
Professional anglers love this line because of its durability, strength, and an in-built cutter that easily allows anglers to set the line.
Moreover, the cutter makes it easier to cut its high-tech fiber that is otherwise difficult to cut.
The enhanced body technology is the reason behind this Power Pro color braided line's smoothness and roundness.
It also allows high abrasion resistance to help add a few more yards to the casting.
Key Features
It comes with an in-built cutter.
Treated with enhanced body technology for smoothness and high sensitivity
Made with original spectra fiber
Has a high strength-to-diameter ratio
More details about the Power Pro Line
The Power Pro Spectra Fiber Braided fishing line is suitable for surf fishing due to its varying diameters. It comes with a range of diameters starting from 0.005 to 0.035 inches, making the line almost invisible to the fish.
Even though it has a thinner line, the spectra fiber makes it strong enough to reel big fishes such as walleye, bass, and trout quite easily.
Specifications
Diameters:005 to 0.035 inches
Dimensions:5 x 4 x 0.1 inches 
Weight:6 ounces
Varying Range:150 to 3000 yards
Product Highlight: Enhanced body technology
With the Pro Power Spectra Fiber braided fishing line, you can expect a smooth surf fishing experience.
Its ultra-strong fiber will make sure the product lasts for years of surf fishing.
The Reaction Tackle high-performance braided fishing line is available in a lot of colors. These colors include Blue camo, red, pink, white, black, dark gray, green camo, and much more.
This braided line features color-lock technology that makes it a great product even in murky or thick water.
The technology ensures long-lasting color and even reduces its visibility, increasing the angler's chances of catching the fish.
The manufacturer uses UHMWPE material that adds strength to the line's fiber. This material is among the most powerful fibers available to make braided fishing lines.
Due to the UHMWPE fiber, this product is extremely strong and highly durable.
Moreover, this braided fishing line has high abrasion resistance. It also has a high sensitivity that allows you to feel the fish bites react as quickly as possible.
Key Features
Has multiple color variants
It comes with color-lock technology to avoid fading
Made with the strongest material, UHMWPE fiber
Has high abrasion resistance
More details about the Reaction Tackle Line
The Reaction Tackle high-performance braided line is extremely strong and lasts longer due to the high-quality material.
Its thin diameter ensures smooth and better casting. Once this braided line enters the water, it will be invisible to the aquatic creatures.
Specifications
Diameter range: 0.14 mm to 0.55 mm (4 strand); 0.60 mm to 1.20 mm (8 strand)
Weight: 10 lbs. to 300 lbs.
Length Range:150 to 1500 yards
Product Highlight: Made with UHMPWE fiber
A color braided line made with the best quality material is undoubtedly an excellent option for surf fishing.
This line will give you its best performance in your fishing experience and last longer than a standard line.
If you are looking for an affordable color braided fishing line, this one will fit right into your budget.
The KastKing braided line offers high abrasion resistance with good quality material that lasts for years.
It is a smooth braided line that can resist scratches even when rubbed against rough obstacles underwater.
You can rely on KastKing as the company manufactures high-quality braided lines with strong strands.
This braided line is easy to tie and has powerful knot strength, making it the perfect line to catch big fish.
KastKing uses its own double-knit fabric, made of polyethylene, to produce this super-strong color braided line.
The zero-stretch feature, along with high sensitivity, allows easy hook settings and improves your catch ratio.
Moreover, with this braided line, you get many strength choices ranging from 6 lbs. to 80 lbs.
Key Features
It comes in plenty of strength options
Made with durable double-knit fabric
Offers high abrasion resistance
Has zero stretch and ultra-high sensitivity
More details about the KastKing Line
The small diameter of this color braided line will decrease the chances of knot failures and wind knots.
Its low memory will keep the line straight as you unwind it and allow you to cast better in the water.
Specifications
Material: Double-knit fabric
Diameter range: 07 mm to0.8 mm  
Range:300 yards to 1100 yards
Product Highlight: Powerful knot strength
The low price, knot strength, and renowned brand name make this line one of the best color braided lines for surf fishing.
Not only will it give you a better cast, but it will also help you catch large fish.
The Berkley Fireline Superline comes with extraordinary features that make this line best for spinning reels.
This color braided line is a durable option that comes with high abrasion resistance.
It is a famous braided line with a low memory which helps the line stick to the spinning reel spools much better than standard braided lines.
The zero stretch and high sensitivity will help you track the movements of the line.
Three times more powerful than monofilament lines, the Berkley Fireline has a diameter of 0.015 inches that fits most reels.
The best feature of this color braided line is the tracer color effect that allows the user to track his line's movements.
With low visibility underwater, it can be an excellent line for surf fishing and offshore fishing.
Key Features
It has five, 10-foot color sections for easy measurement
Available in smoke, crystal, flame green, and multi-color variants
Enable tracking the line with a tracer color
Highly sensitive along with zero stretch
More details about the Berkley line
The abrasion-resistant in the Berkley Fireline makes this braided line the perfect fit for spinning reels.
Its tough coated strands prevent the line from rough underwater obstacles.
Moreover, if the fish gets stuck in water plants, it will be easy to pull it up with this braided line.
Specifications
Material: Polyethylene
Range: 100 to 1500 yards
Breaking Strength:6 lbs. to 30 lbs.
Product Highlight: It allows tracking the line's movement in the water after casting
The Berkley Fireline Superline will be an excellent addition to your fishing kit, especially if you use spinning reels for fishing.
If you want a long-lasting color-braided fishing line, go for the SpiderWire Stealth Superline.
This braid is made from Dyneema polyethylene microfiber, also known as the world's strongest fiber. It is best for those anglers who want to catch bass or trout.
With its Hi-Vis yellow color variant, anglers can get high visibility above the water and low underwater.
The line comes with color-lock technology that prevents color fading, which might be a problem with many other color braided lines.
The Dyneema fiber also allows you to cast farther away in the sea while you are surf fishing.
It is easy to handle and lasts much longer than most braided lines. And with the color variants having low visibility underwater, you can catch bigger fishes such as walleye, bass, and trout.
Key Features
Dyneema microfiber ensures extraordinary strength
Equipped with advanced color-lock technology
Available in different colors
Coated with fluoropolymer microfiber
More about the SpiderWire Line
The SpiderWire Stealth Superline has various tensile strength options to choose from.
Also, this braided line comes in many weight options too, ranging from 6 lbs. to 250 lbs.
Specifications
Weight Range: 6 to 250 lbs. for 4-strand and 8-strand color braided lines
Length Range: 160 to 1500 yards
Diameter range: 005 inches to 0.016 inch
Product Highlight: Made with the strongest fiber, Dyneema polyethylene
With SpiderWire Stealth Superline, you can expect a longer life than with other color braided lines.
Moreover, the Dyneema microfiber makes the braid strong enough to catch bass, trout, and walleye.
Factors You Need To Consider While Buying Color Braided Line for Surf Fishing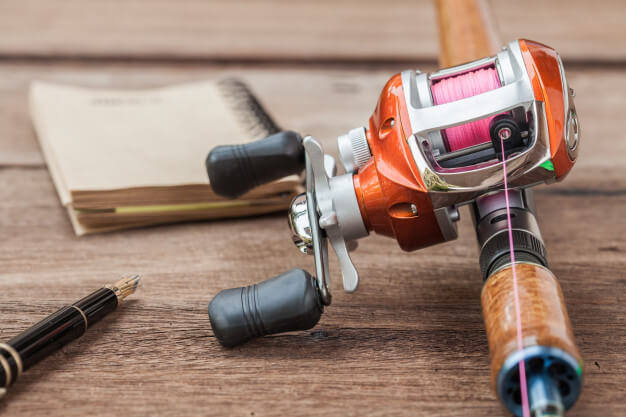 Even though these will suffice, you should know the best color braided line features for surf fishing if you want to look for more options.
So, consider the following factors before you buy a color braided line:
Material
Material is the first and most important thing to look for while buying a braided line. Some of the common fibers used to make braided lines are Nylon and Polyethylene.
Nylon is the oldest and one of the most popular synthetic fibers used for braided lines. It maintains the right balance between the strength, abrasion resistance, and stretch of the braided line.
On the other hand, polyethylene adds durability and strength to the line and is an expensive fiber. UHMWPE, one of the strongest materials, is also a polyethylene fiber.
They are much stronger than steel, with low memory and only a little stretching.
Strength
Most color-braided fishing lines are strong and last longer than other types of lines. If you want to catch big fish, you need a powerful braided line.
You can determine the braided line's strength based on the type and number of fibers used, diameter, and knot type.
Since the line's strength also depends on the material, you can choose the ones made from 4 to 8 strands of woven fiber.
The strength of a color-braided fishing line mostly depends on the material. Most braided lines will have 4-8 strands of interwoven fibers.
The stronger your braid, the longer it will last. So, if you choose a powerful braided line, you won't have to worry about its durability.
Color
Since we are talking about color braided lines, color is obviously an important factor.
You need to choose the best color with optimal visibility in all water conditions. If you select a bright-colored line, your chances of success will rise.
Other than the visibility, look for the braided lines with color-lock technology that prevents the line from color fading.
Abrasion resistance
Abrasion is a common problem while fishing. With an abrasion-resistant braided line, you can minimize the effects of sharp underwater objects on the line.
The best color braided line can endure the damage caused by underwater obstacles such as sharp rocks.
As most braided lines are abrasion-resistant, you can easily find them in the market. However, look for thinner lines as they have better resistance to abrasion than others.
Moreover, a braided line with high abrasion-resistant capabilities lasts longer than the ones with low resistance.
Sensitivity
While buying braided lines, people often ignore their sensitivities and buy the wrong ones. You can measure the sensitivity of a braided line by stretching.
The best ones have zero stretches and are the most sensitive lines. You can easily notice the movement when the fish bites the bait and probably catch it with these lines.
However, if the braid has a high number of stretches, its sensitivity will be poor, and you won't detect when the fish bites your bait.
Best Color Braided Line for Surf Fishing (FAQs)
If you still have some doubts, read the following frequently asked questions.
These answers will clarify your confusion and help you decide which line is the best color braided line for surf fishing.
✅ Can fish see a color braided line?
Fishes can see braided lines, even the ones with low visibility. However, if you use a leader line coated with fluorocarbon material, it will be much less visible. You can also choose a line with a color that matches the water to reduce visibility.
✅ What color of braided line is best for surf fishing?
The color you choose for your braided lines should work with all types of water conditions. You can try blue or green color braided lines to trick the fish as both of them will blend in with the water.
✅ Are color braided fish lines durable?
The durability of a color braided line depends on the stretches, abrasion resistance, and its material. Lines with zero stretches, high abrasion resistance, and high-quality material will probably last longer.
Conclusion
The color braided lines mentioned above in the list are the best ones you can find in the market.
But the PowerPro Spectra Fiber Braided Fishing Line is our first pick for a reason. It has enhanced body technology and is made with original spectra fiber that adds strength to the line.
However, if you are looking for a cheaper option, you should go for the KastKing SuperPower Braided Fishing Line. It is a renowned brand and offers great features at an affordable price.
Last update on 2023-05-29 / Affiliate links / Images from Amazon Product Advertising API